Catalogs

>

6084-2105
Catalog excerpts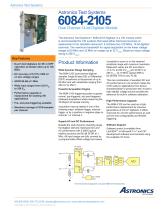 Astronics Test Systems Astronics Test Systems 6084-2105 Dual Channel 14-bit Digitizer Module The Astronics Test Systems™ 6084-2105 Digitizer is a VXI module which is recommended for VXI systems that need either improved accuracy or replacement of an obsolete instrument. It contains two 125 MS/s, 14-bit digitizer channels. The maximum bandwidth for signal acquisition on the lower voltage ranges is 60 MHz and 32 MHz on ranges up to 32 Vpk-pk. Maximum input voltage swing is 256 V,*- • Dual 14-bit digitizers for SE or DIFF operation at sample rates up to 125 MS/s • DC accuracy of 0.15% ± 800 gV on low voltage ranges • SFDR 80 dB at 1 MHz • Wide input ranges from 0.25 Vpk to 256 V k pk • Performance upgrade or replacement for existing VXI applications • Pre- and post-triggering available • Waveform storage of 32 M samples per channel Product Information Wide Dynamic Range Sampling The 6084-2105 dual-channel digitizer samples Single-Ended (SE) or Differential (DIFF) waveforms at frequencies of up to 60 MHz and with amplitudes ranging from 250 mV to 256 V. Powerful Acquisition Engine The 6084-2105 triggering system supports normal, pre-triggered, and post-triggered (delayed) acquisitions while preserving the 32 Meg/ch of sample memory. Acquisition may be started in one of the following ways: software trigger, external trigger, or by a positive or negative edge on channel 1 or channel 2. Superb AC and DC Performance Despite the wide dynamic operating range, the digitizer delivers impressive DC and AC performance with 0.006% typical relative accuracy and 80 dB SFDR at 1 MHz. All input ranges are fully covered by a programmable offset voltage that makes it possible to zoom in on the required amplitude range with maximum resolution. Measured values are DC accurate to ±1.2 mV at 250 mV . . and ±0.65 V at pk-pk 256 Vpk-pk. At 10 MHz, typical SNR is 62 dB and THD is only 70 dB. This rare combination of excellent DC and AC performance in one product makes the 2105 useful in applications from device characterization to production test. A built-in high stability voltage source provides the reference for built-in software calibration. High Performance Upgrade The 6084-2105 can be used as a high-performance replacement for previous generations of VXI LF digitizers. It offers improved AC and DC performance as well as front-end configurability and flexible triggering. Software Support Software control is available from LabVIEW™ or Microsoft C++® and C#® development software environments using the available IVI driver. 949.859.8999; 800.722.2528; atssales@astronics.com; www.astronicstestsystems.com Copyright © 2016 Astronics Test Systems Inc.
Open the catalog to page 1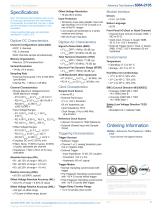 Astronics Test Systems Astronics Test Systems 6084-2105 Astronics Test Systems Astronics Test Systems 6084-2105 Ordering Information 408646 : Astronics Test Systems™ 60842105 Dual Channel VXI Digitizer Module Specifications Note: The Astronics Test Systems' policy is one of continuous development and improvement. Consequently, the equipment may vary in detail from the description and specifications in this publication. Unless specified otherwise, all parameters specified at TA=25°C ±3°C Digitizer DC Characteristics Channel Configurations (selectable) • DIFF: 2 channels • SE: 2 channels •...
Open the catalog to page 2
All Astronics Test Systems catalogs and technical brochures

Compare up to 10 products