Catalogs

>

Series 94 Electric Actuator
Catalog excerpts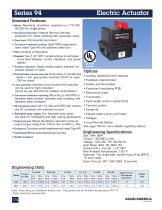 Electric Actuator Standard Features • Motor: Reversing, brushless, capacitor-run 115 VAC 50/60 Hz, single phase • Overload protection: Integral thermal overload protection for motor windings with automatic reset • Gear train: Permanently lubricated • Corrosion resistant housing: Zytel FR50 engineered resin rated Type 4X with stainless steel trim • ISO mounting configuration • Conduit: Two 1/2" NPT conduit entries to eliminate cross feed between control, feedback, and power signals • Position indication: Highly visible position indicator for positive position of valve • Declutchable manual override: Push down on handle and rotate in the appropriate direction (CCW for open, CW for close) Options • Auxiliary (additional) limit switches • Feedback potentiometer • Heater and thermostat • Limit switches: Standard end of travel limit switches can be used for light indication (not to be use with PLC for position confirmation) • Corrosion resistant mounting: Mounting is with PPG or stainless steel bracket, stainless steel coupling, and stainless steel hardware • Mechanical brake • Transmitter • Cycle length control module (CLC) • CE compliant motor: All 115 VAC and 230 VAC motors are CE compliant and stamped as such • Two-wire control • Extended duty cycles: Our extended duty cycles are ideal for modulating and high cycling applications • Failsafe battery back up (Protek) • Output torque: Series 94 electric actuators have an output torque range from 150 in/lbs. to 300 in./lbs. • Enclosure: Corrosion proof weatherproof rated Type 4X • Captivated SS hex head slotted cover screws • Local Remote Station See page 194 for more details regarding options. Engineering Specifications Engineering Data Torque (in/lbs) Size: A94, B94 Torque: 150-300 in/lbs Voltage: 120 VAC 1Ph 50/60 Hz Amp Draw: A94 .5A, B94 .8A Conduit Entry: Two (2) 1/2" NPT Max Ambient Temperature: 150º F Switches: Two single pole, double throw (Two SPDT) 15 amp rated Cycle Time per 90º: A94, B94: 5 seconds • RoHS compliant Duty Cycle Duty Cycle Duty Cycle Duty Cycle Cycle Time per 90 Degrees (seconds)* Amp Duty Amp Duty Draw Cycle Draw Cycle Note: Amp rating is considered locked rotor. Duty cycles are for ambient temperature (73º F). *Cycle times are approximate.
Open the catalog to page 1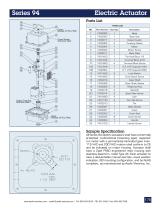 Electric Actuator Parts List PARTS LIST Cover: Molded ZYTEL FR50 Cover Screw: Stainless Steel 21 Part Number Base Seal Output Couplin Coupling Gasket Motor Screw Base Plate Terminal Block Screw Limit Switch Limit Switch Screw Outer Shaft Outer Shaft Gasket Retaining Ring Base Plate Screw Base Gasket Cover Seal Cover Screw Handle Screw Output Coupling: Stainless Steel Base: Molded ZYTEL FR50 2 Sample Specification All Series 94 electric actuators shall have a thermally protected, bi-directional (reversing type), capacitor run motor with a permanently lubricated gear train. 115 VAC and 230...
Open the catalog to page 2
All Asahi/America catalogs and technical brochures

Compare up to 10 products