Catalogs

>

Pro-Vent ® Duct System
Catalog excerpts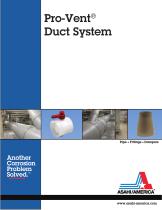 Pro-Vent® Duct System Pipe • Fittings • Dampers www.asahi-america.com www.asahi-america.com www.asahi-america.c
Open the catalog to page 1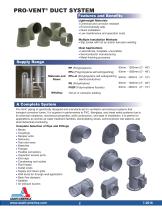 Features and Benefits Lightweight Materials • Chemical and corrosion resistant • Environmentally safe • Quick installation • Low maintenance and operation costs Multiple Installation Methods • Slip socket with hot air and/or extrusion welding Ideal Applications • Laboratories, hospitals, universities • Semiconductor manufacturing • Metal finishing processes Supply Range PP (Polypropylene) 63mm PPs (Polypropylene self extinguishing) 63mm PPs-el (Polypropylene self extinguishing 90mm PVDF (Polyvinylidene fluoride) 63mm A Complete System Pro-Vent® piping is specifically designed...
Open the catalog to page 2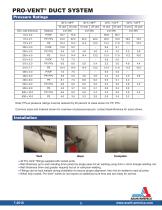 Note: PPs-el pressure ratings must be reduced by 50 percent of value shown for PP, PPs. Common sizes and material shown for overview of pressure/vacuum, contact Asahi/America for sizes shown. Tack Weld Complete • All Pro-Vent® fittings supplied with socket ends. • Wall thickness up to and including 3mm joined by single pass hot air welding using 5mm x 3mm triangle welding rod. • Wall thickness 5mm and greater requires hot air or extrusion welding. • Fittings can be tack welded during installation to ensure proper alignment, then hot air welded to seal all joints. • When fully cooled,...
Open the catalog to page 3
All Asahi/America catalogs and technical brochures

Compare up to 10 products