Catalogs

>

Pool-Pro
Catalog excerpts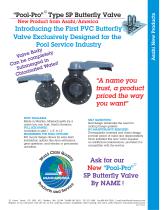 "Pool-Pro" Type SP Butterfly Valve New Product from Asahi/America Introducing the First PVC Butterfly Valve Exclusively Designed for the Pool Service Industry Body tely e Valv omple c n be erged in ter! Ca a Subm ated W rin Chlo "A name you trust, a product priced the way you want" NOW AVAILABLE: Made in Malden, Massachusetts by a name you can trust, Asahi/America. FULL SIZE RANGE: Available in sizes 1 1/2" to 12". ENGINEERED FOR FIELD OPTIONS: ISO mount design allows for easy field installation options like stem extensions, gear operators, and electric or pneumatic actuation. SELF GASKETING: Seat design eliminates the need for mating flange gaskets. NO MAINTENANCE REQUIRED: Themoplastic material and Asahi design provide peace of mind and dependability. Once installed this new valve requires no additional maintenance, provided it is compatible with the service. Ask for our © New "Pool-Pro" SP Butterfly Valve By NAME ! 35 Green Street, P.O. BOX 653, Malden, MA 02148 Tel:800-343-3618, 781-321-5409, Fax:800-426-7058, E-mail:asahi@asahi-america.com Register at our interactive web site for on line ordering, product availability, order tracking, and many useful features: www.asahi-america.
Open the catalog to page 1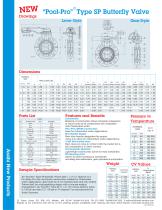 NEW "Pool-Pro" © Type SP Butterfly Valve Drawings Lever Style Gear Style Dimensions NOMINAL SIZE ANSI CLASS 150 H H (Lever) (Gear) H2 H2 H3 H3 (Lever) (Gear) (Lever) (Gear) Parts List PARTS DESCRIPTION Body Disc Seat O-Ring (A) * O-Ring (B) O-Ring (C) Stem MATERIAL PVC PVC EPDM EPDM EPDM EPDM Stainless Steel 316 Stem Holder Handle Metal Insert in Handle Handle Lever Pin Spring Washer (A) Bolt (B) Locking Plate Screw (B) Cap (A) Stainless Steel 304 PP Stainless Steel 316 PPG PPG Stainless Steel 304 Stainless Steel 304 Stainless Steel 304 PPG Stainless Steel 304 PP Diecast Aluminum Power...
Open the catalog to page 2
All Asahi/America catalogs and technical brochures

Compare up to 10 products