Catalogs

>

92 series
Catalog excerpts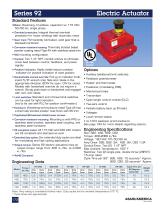 Electric Actuator Standard Features •Motor: Reversing, brushless, capacitor-run 115 VAC 50/60 Hz, single phase • Overload protection: Integral thermal overload protection for motor windings with automatic reset • Gear train: Permanently lubricated, solid gear that is Rockwell hardened • Corrosion resistant housing: Thermally bonded baked powder coating rated Type 4X with stainless steel trim • ISO mounting configuration • Conduit: Two 1/2" NPT conduit entries to eliminate cross feed between control, feedback, and power signals • Position indication: Highly visible beacon position indicator for positive indication of valve position • Declutchable manual override: Pull up on indicator knob, insert 5/8" wrench onto flats and rotate in the appropriate direction (CCW for open, CW for close). Models with handwheel override do not require a wrench. Simply push down on handwheel until engaged with cam and rotate • Limit switches: Standard end of travel limit switches can be used for light indication (not to be use with PLC for position confirmation) • Extended duty cycles: Our extended duty cycles are ideal for modulating and high cycling applications • Output torque: Series 92 electric actuators have an output torque range from 400 in./lbs. to 2,000 in./lbs. 115 VAC Amp Duty Draw Cycle 230 VAC Amp Duty Draw Cycle 12 VDC Amp Duty Draw Cycle • Mechanical brake • Transmitter • Failsafe battery back up (Protek) • Voltages • UL1203 explosion proof enclosure See page 194 for more details regarding options. • CE compliant motor: All 115 VAC and 230 VAC motors are CE compliant and stamped as such Torque (in/lbs) • Local remote station • Corrosion resistant mounting: Mounting is with PPG or stainless steel bracket, stainless steel coupling, and stainless steel hardware • Two-wire control • Captivated SS hexhead slotted cover screws Engineering Data • Feedback potentiometer • Cycle length control module (CLC) • Enclosure: Weatherproof enclosure rated Type 4X has a thermally bonded powder coat finish with SS trim • RoHS Compliant • Auxiliary (additional) limit switches Engineering Specifications Size: S92, A92, B92, C92 Torque: 400-2000 in/lbs Voltage: 120 VAC 1Ph 50/60 Hz Amp Draw: S92, B92 .5A, A92 .8A, C92 1.0A Conduit Entry: Two (2) 1/2" NPT Max Ambient Temperature: 150º F Switches: Two (2) single pole, double throw (2SPDT) 15 amp rated Cycle Time per 90º: S92, A92: 15 seconds* Approx. B92, C92: 32 seconds* Approx. 24 VDC Amp Duty Draw Cycle 12 VAC Amp Duty Draw Cycle 24 VAC Amp Duty Draw Cycle Cycle Time per 90 Degrees (seconds)* Note: Amp rating is considered locked rotor. Duty cycles are for ambient temperature (73º F). * Cycle times are approximate.
Open the catalog to page 1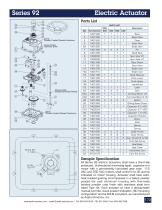 Electric Actuator Powder Coated Diecast Aluminium Output Shaft: Powder Coated Diecast Aluminium Parts List www.asahi-america.com • asahi@asahi-america.com Sample Specification All Series 92 electric actuators shall have a thermally protected, bi-directional (reversing type), capacitor-run motor with a permanently lubricated gear train. 115 VAC and 230 VAC motors shall conform to CE and be indicated on motor housing. Actuator shall have solid, heat treated gearing encompassed in a baked powder coated die cast aluminum housing with thermally bonded powder coat finish with stainless steel trim...
Open the catalog to page 2
All Asahi/America catalogs and technical brochures

Compare up to 10 products