Catalogs

>

Datenblatt PFT28
Catalog excerpts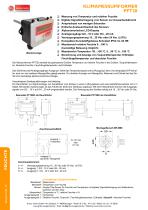 Messung von Temperatur und relativer Feuchte Digitale Signalübertragung vom Sensor zur Auswerteelektronik Ansprechzeit von wenigen Sekunden Einfache Austauschbarkeit des Sensors Alphanumerisches LCD-Display Analogausgänge 0/2…10 V oder 0/4…20 mA Versorgungsspannung 15…30 Vdc oder 24 Vac (±15%) Kompaktes Kunststoffgehäuse Schutzart IP54; UL 94 HB Messbereich relative Feuchte 0…100 % (kurzzeitige Betauung möglich) Messbereich Temperatur -30…+50 °C, 0…50 °C, 0…100 °C Berechnung und Anzeige von Taupunkttemperatur, Enthalpie Feuchtkugeltemperatur und absoluter Feuchte Der Messumformer PFT28 wandelt die gemessene Größen Temperatur und relative Feuchte in die Größen: Taupunkttemperatur, Absolute Feuchte, Feuchtkugeltemperatur und Enthalpie. Das Gerät hat zwei Analogausgänge: Ausgang 1 liefert das Temperatursignal und auf Ausgang 2 kann via zweipoligen DIP-Schalter, eine von vier weiteren Messgrößen gelegt werden. Zur direkten Anzeige von Messgröße, Messwert und Einheit hat das Gerät eine zweizeilige alphanumerische Anzeige. Verschiedene Geräteausführungen sind lieferbar: Ein Raumfühler zur Wandmontage, ein Kanalfühler zum Einbau in einen Lüftungskanal und eine Kabelführervariante mit 2 m Kabel. Bei beiden Ausführungen ist das Fühlerrohr direkt am Gehäuse angebaut. Mit einer Steckbrücke können die Ausgangssignale von 0/2…10 V auf 0/4…20 mA umgeschaltet werden. Die Versorgung des Gerätes erfolgt mit 15…30 Vdc oder 24 Vac. Baumaße PFT28K als Kanalfühler Versorgungsspannung 15...30 Vdc oder 24 Vac (±15%) Ausgang 1: 0/2...10 V oder 0/4...20 mA Ausgang 2: 0/2...10 V oder 0/4...20 mA TECHNISCHE SPEZIFIKATIONEN: Betriebsart: Messmodus Messstoff: Temperatur und Feuchte Sensor: Single-Chip-Sensor für Feuchte und Temperatur mit digitaler Signalübertragung und Kalibrationsspeicher auf dem Chip Messeinheit: Temperatur in °C; relative Feuchte in % Ausgangssignal 1: Temperatur Ausgangssignal 2: Relative Feuchte, Taupunkt-, Feuchtkugeltemperatur, Enthalpie; (Speziell - Absoulte Feuchte) Arthur Grillo GmbH • Am Sandbach 7 • 40878 Ratingen • Telefon 0 21 02 - 47 10 22 • Telefax 0 21 02 - 47 58 82 www.
Open the catalog to page 1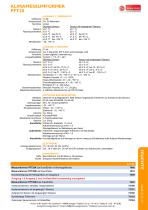 KLIMAMESSUMFORMER PFT28 AUSGANG 1: TEMPERATUR 14 bit Ca. 20 Sekunden Linear Auflosung: Ansprechzeit: Kennlinie: Toleranz: Reproduzierbarkeit: Sensor mit eingeegnter Toleranz: ±0,1 °C ±0,1 °C ±0,3 °C bei 25 °C ±1,5 °C bei -40 °C ±2,0 °C bei +120 °C Auflosung: Ansprechzeit: Kennlinie: Langzeitstabilitat: Toleranz: Reproduzierbarkeit: Sondermessbereich: Messbereichsauswahl: Gehause: Schutzart: Abmessungen: Lagertemperatur: Einsatztemperatur: Gewicht: Anschlusskopf: Elektrischer Anschluss: Gewicht: Kanalfuhler Ca. 4 Sekunden (63 %-Zeit, leicht bewegte Luft) Linear (digitale Linearisierung)...
Open the catalog to page 2
All Arthur Grillo GmbH catalogs and technical brochures

Archived catalogs
Compare up to 10 products