Catalogs

>

data sheet DA2000
Catalog excerpts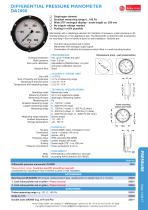 Arthur Grillo measuring & controlling systems □ Diaphragm element □ Smallest measuring range 0...100 Pa □ Wide 270° analogue display - scale length ca. 250 mm □ No supply voltage needed □ Scaling in m3/h possible Manometer with a diaphragm element for indication of pressure, under pre ssure or differential pressure of non aggressive gas. The Manometer is delivered with accessories for mounting in front or behind a panel or wall installation. Optional are: • Two limit value pointers red or green • Manometer with analogue output signal • Combination of indicator and pressure switch fitted in a wall mounting bracket Overload protection: Static pressure: Zero point calibration: Reaction time: Zero drift: Sum of linearity and hysteresis: Temperature drift zero point: Temperature drift measuring range: Operating mode: Measuring medium: Measuring principle: Measuring unit: Smallest measuring range: Largest measuring range: Measuring range: Measuring range selection: Ambient temperature: Storage temperature: Housing: Dimensions: Weight: Protection class: Display: Scaling: Pressure connections: PERFORMANCE: min. up to It times the span max. t.2 bar Adjustable by REEDcontact, no cyclic zero-point calibration required direct ACCURACY/ ERROR LIMIT: ± t.75 % ± 2 % of measuring range ± t.3 % / It K ± t.2 % / It K Dimensions (mm) - wall construction TECHNICAL SPECIFICATIONS: Measuring mode Air or non-aggressive gases diaphragm measuring system da t...1tt Pa (1 mbar) t...5ttt Pa (5t mbar) t...1tt Pa (1 mbar), t...2tt Pa (2 mbar), t...5tt Pa (5 mbar), t...1ttt Pa (1t mbar), t...2ttt Pa (2t mbar), t...5ttt Pa (5t mbar) factory preset -1t...+5t °C -25...+6t °C PHYSICALLY: ultramid/ABS, black, transparent cover round -> outside 134 mm 0 approx. 4tt g IP65 according EN 6t529 pointer display with scale Scale length 27t° = ca. 25t mm Hose connections 5 mm 0 CONFORMITY: EN 61ttt-6-2, EN 61ttt-6-3, CE-mark according RoHS-directive 2t11/65/EU Differential pressure manometer DA2000 2532 Measurement range: Customer-specific presetting required! Accessories for mounting in front or behind a panel or wall installation. Mounting set M-DA2000 with screws, metal-pressure taps, sealing and 2 m plastic hose (7 x 1.5 mm) 25304 1. Limit value pointer red or green - Please choose! 25301 2. Limit value pointer red or green - Please choose! 25302 Probe measuring range e.g. -2t...t...+8t Pa 25303 PRESSURE Date: 13.02.17 Arthur Grillo GmbH • Am Sandbach 7 • 40878 Ratingen • phone 0 21 02 - 47 10 22 • fax 0 21 02 - 47 58 82 www.grillo-messgeraete.de/en • Email: info@grillo-messgeraete.de • web shop: www.sensor-store.de
Open the catalog to page 1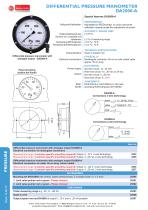 DIFFERENTIAL PRESSURE MANOMETER DA2000-A Special features DA2000-A Nullpunkt-Kalibration: Nullpunktabweichung: Summe von Linearität und Hysterese: Temperaturdrift Nullpunkt: Temperaturdrift Messspanne: Characteristics: Differential pressure manometer with analogue output - DA2000-A Electrical connections: Power supply: Panel mounting (before the Panel) Output: braun PERFORMANCE: Adjustable by REEDcontact, no cyclic zero-point calibration required,scale fine adjustment via screw ACCURACY / ERROR LIMIT: ± 0.75 % ± 2 % of measuring range ± 0.3 % / 10 K ± 0.2 % / 10 K TECHNICAL SPECIFICATIONS:...
Open the catalog to page 2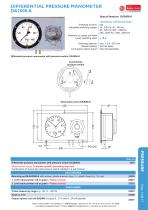 DIFFERENTIAL PRESSURE MANOMETER DA2000-K Special features DA2000-K Switching function: Adjustable switching ranges: Tolerance on upper and lower Lower switching point: Switching capacity: Setpoint setting: Limit signal / alarm output: TECHNICAL SPECIFICATIONS: yes 20...300 Pa, 30...400 Pa, 50...500 Pa, 200...1000 Pa, 500...2500 Pa, 1000...5000 Pa ± 15 % max. 1.5 A / 250 Vac Poti mit Skala Über Druckschalter Differential pressure manometer with pressure switch- DA2000-K Connections pressure switch Measurement range: Customer-specific presetting required! Combination of manometer and pressure...
Open the catalog to page 3
All Arthur Grillo GmbH catalogs and technical brochures

Archived catalogs
Compare up to 10 products