Catalogs

>

EKT Series
Catalog excerpts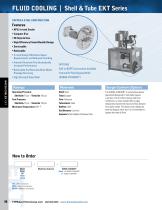 COPPER & STEEL CONSTRUOTiON Features ■ HPU, in-tank Cooler ■ Compact Size ■ EK Style & Size ■ High efficiency Finned Bundle Design ■ Serviceable ■ removable ■ In-tank Design Minimizes Space Requirements and Reduces Plumbing ■ Internal Aluminum Fins Dramatically Increase Performance ■ Removable End Bonnets Allow Water Passage Servicing ■ High Strength Steel Shell OPTIONS SAE or BSPP Connections Available Internal Oil Flow Bypass Relief (SURGE-CUSHION®) Shell Steel tubes Copper Fins Aluminum tubesheets Steel Baffles Steel end Bonnets Cast Iron Gaskets Nitrile Rubber/Cellulose Fiber Ratings operating pressure: Shellside 75 psi - tubeside 150 psi test pressure: Shellside 75 psi - tubeside 150 psi Maximum temperature 250° F The SURGE-CUSHION® is a protective device (patented) designed to internally bypass a portion of the oil flow during cold start conditions, or when sudden flow surges temporarily exceed the maximum flow allowed for a given cooler. This device may replace an external bypass valve, but it is not intended to bypass the total oil flow. Model Model Size Selected SuRGE-CuSHIoN® Series Blank - No SURGE-CUSHION® EKTS EKTM EKT = NPT Connections. EKTS = SAE Oil Connections. EKTM = All Metric Connections.
Open the catalog to page 1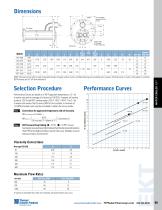 NOTE: We reserve the right to make reasonable design changes without notice. Certified drawings are available upon request. All dimensions in inches. Tank gasket is included. BSPP threads are 55° full form whitworth. Selection Procedure Performance Curves Performance Curves are based on a 40°F approach temperature, a 2:1 oil to water ratio and an average oil viscosity of 100 SSU. Example: oil leaving cooler at 125°F with 85°F cooling water (125°F - 85°F = 40°F). The 2:1 oil to water ratio means that for every GPM of oil circulated, a minimum of 1/2 GPM of water must must be circulated to...
Open the catalog to page 2
All API Schmidt-Bretten catalogs and technical brochures

Archived catalogs

Compare up to 10 products