Catalogs

>

Solid bowl decanter A
Catalog excerpts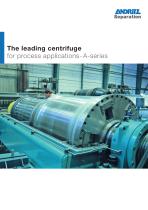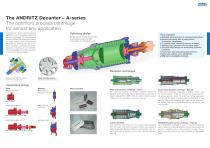 The ANDRITZ Decanter – A-series The optimum process centrifuge for almost any application Optimized design With more than 15,000 machines installed, ANDRITZ is one of the leading suppliers of decanter centrifuges. The comprehensive product portfolio also comprises the product range acquired from Humboldt and Bird Machine. ANDRITZ can offer an optimum machine for almost all process applications (A-series) up to 1.4 m diameter. The robust design of the machines allows a service life of several decades. Your benet single, double or triple lead conveyor optimized bearings and seals rigid design...
Open the catalog to page 2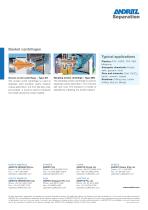 Basket centrifuges Typical applications Screen scroll centrifuge – Type AH The screen scroll centrifuge is used to separate (and possibly wash) medium coarse particles (> 0.2 mm) like salt, coal, and potash. A scroll is used to transport the solids along the screen basket. Vibrating screen centrifuge – Type AES The vibrating screen centrifuge is used to separate coarse particles (> 0.5 mm) like salt and coal. The transport of solids is assisted by vibrating the screen basket. NORTH AMERICA SOUTH AMERICA Plastics: PVC, HDPE, PTA, PBA, Melamine Anorganic chemicals: Potash, salts, gypsum, soda...
Open the catalog to page 3
All ANDRITZ AG catalogs and technical brochures

Compare up to 10 products