Catalogs

>

BS
Catalog excerpts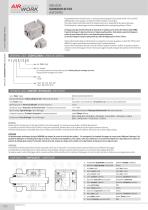 ROD LOCKS BLOQUEURS DE TIGE BLOCCASTELI ROD LOCKS / BLOQUEURS DE TIGE / BLOCCASTELI Actuators / Actionneurs / Attuatori The patented Airwork rod-lock BS series is a mechanical device designed to be used with all ISO 15552 and 6432 VDMA cylinders, and its purpose is to block the rod of the cylinder in any position. This solution allows to block the stroke of the cylinder every time an unexpected fall of pressure takes place. The blocking force is always bigger than the one developed from the corresponding cylinder at 10 bars. Le bloqueur de tige série BS d'Airwork est breveté et est utilisé pour les vérins ISO 15552 et 6432 VDMA. II permet de bloquer la tige du vérin dans n'importe quelle position. Cette solution permet de bloquer la course du vérin chaque fois qu'il y a une chute de pression imprévue. La force du blocage est toujours plus grande que celle développée par le vérin à 10 bars. Il bloccastelo brevettato della serie BS di Airwork è un dispositivo meccanico da applicare ai cilindri ISO 15552 e 6432 VDMA il cui scopo è quello di bloccare lo stelo dei cilindri in qualsiasi posizione. Questa soluzione permette di bloccare la corsa del cilindro in qualsiasi momento si verifichi un'improvvisa caduta di pressione. La forza di bloccaggio è sempre e comunque maggiore di quella sviluppata dal rispettivo cilindro alimentato a 10 bar. ORDERING CODE / CODIFICATION / CHIAVE DI CODIFICA Size / Taille / Taglia 01= Standard 03= Double guided for mounting without cylinder / Double guide pour montage sans vérin / Doppia guida per montaggio senza cilindro 0: ISO 1: NFPA 3: Ø20 - Ø25 - Ø32 - Ø40 - Ø50 2: Ø63 - Ø80 - Ø100 - Ø125 TECHNICAL DATA / DONNÉES TECHNIQUES / DATI TECNICI Sizes / Tailles / Taglie Fluid / Fluide / Fluido Lubricated or non lubricated air / Air lubrifié ou non / Aria con o senza lubrificazione Cylinder rod Ø tollerance / Tolérance Ø tige de vérin / Tolleranza Ø stelo cilindro Operating pressure / Pression d'utilisation / Pressione di esercizio Temperature range / Température de fonctionnement / Temperature di funzionamento Type of locking / Type de blocage / Tipo di bloccaggio In absence of pressure / En absence de pression / In assenza di pressione Locking forces / Force de blocage / Forza di bloccaggio Mechanical bi-directional / Mécanique bidirectionnelle / Meccanico bidirezionale Locked / Bloque / Bloccato ATTENTION Airwork rod-lock's functioning is of static type (cylinder's rod must be stopped). It is necessary to stop cylinder's rod before doing the lock. It is possible to unlock the rod-lock only if the forces in the piston are balanced, otherwise there can be accidents due to the irregular movement of the rod. lf the given blocking values are exceeded, there can be a sliding on the rod. When it is blocked and the loads are variable on the rod, the rod can have a slight axial play. ATTENTION Le fonctionnement du bloqueur de tige d'AIRWORK est statique (la course du vérin doit être arrêtée ) . Par conséquent il est impératif de stopper la course avant d'effectuer le blocage. Il est possible de débloquer le verrouillage de la tige si les forces sur le piston sont équilibrées, sinon il peut y avoir des accidents dus au mouvement irrégulier de la tige. Dépasser les valeurs de pression du blocage peut entrainer l'extraction violente de la tige. Lorsque les charges sont variables sur la tige bloquée, la tige peut avoir un léger jeu axial. ATTENZIONE Il funzionamento del bloccastelo Airwork è di tipo statico (stelo cilindro non in movimento). È necessario arrestare lo stelo del cilindro prima di effettuare il bloccaggio. È possibile sbloccare il bloccastelo solo se le forze nel pistone sono equilibrate, altrimenti si possono verificare incidenti a causa del movimento irregolare dello stelo. Se vengono superati i valori di bloccaggio indicati, si possono verificare slittamenti dello stelo. In condizioni di bloccaggio e con carichi variabili sullo stelo, lo stelo può avere un leggero gioco assiale. COMPONENTS / COMPOSANTS / COMPONENTI N. DESCRIPTION / DESCRIPTION / DESCRIZIONE 1 guide bush / bague guidage / bussola guida spring / ressort / molla spring / ressort / molla cover / couvercle / coperchio piston seal / joint piston / guarn.pistone cover / couvercle / coperchio o-ring / joint torique piston / piston / pistone 10 sping cover / supp.ressort / disco molla 11 body / corps / corpo 12 jaws / palette / palette 13 rod seal / joints tige / guarnizione stelo MATERIAL / MATIÈRE / MATERIALE Delring steel / acier / acciaio steel / acier / acciaio steel / acier / acciaio aluminium / aluminium / alluminio polyurethane / poliuretano aluminium / aluminium / alluminio NBR Delring Delring
Open the catalog to page 1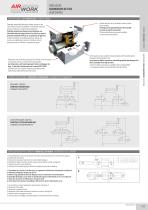 ROD LOCKS BLOQUEURS DE TIGE BLOCCASTELI Delrin pistons ensure a perfect closing of plates and the resulting free movement of the cylinder's rod. Les pistons en delrin assurent un verrouillage parfait des plaques et la libre circulation de la tige du vérin. l pistoni in Delrin assicurano una perfetta chiusura delle palette e il conseguente libero movimento dello stelo del cilindro. Dimensions are the main key point of this rod lock, in fact it remains in the section size of a common ISO 15552 cylinder. Les dimensions sont le principal point clé de ce bloqueur de tige, il reste dans la...
Open the catalog to page 2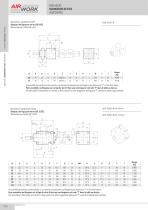 Rod lock for cylinders ISO 6432 Bloqueur de tige pour vérins ISO 6432 Bloccastelo per cilindri ISO 6432 ROD LOCKS / BLOQUEURS DE TIGE / BLOCCASTELI Actuators / Actionneurs / Attuatori ROD LOCKS BLOQUEURS DE TIGE BLOCCASTELI CODE: BS3001.Ø To assemble the rod-lock on the cylinder, it is essential to increase the rod lenght as per dimension "T" in the chart above. Pour assembler un bloqueur sur la tige du vérin il faut une sur-longueur voir cote "T" dans la table au dessus. Per assemblare il bloccastelo sul cilindro, si deve costruire lo stelo maggiorato della quota "T" secondo la tabella...
Open the catalog to page 3
All Airwork Pneumatic Equipment catalogs and technical brochures

Compare up to 10 products