Catalogs

>

Model 64 Series
Catalog excerpts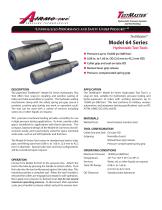 "UNPARALLELED PERFORMANCE AND SAFETY UNDER PRESSURE!"® TestMaster® Model 64 Series Hydrostatic Test Tools ■ Pressures up to 10,000 psi (689 bar) ■ 0.08 in. to 1.66 in. OD (2.0 mm to 42.2 mm OD) ■ Collet grip and seal on tube OD ■ Manual lever grip release ■ Pressure-compensated spring grip DESCRIPTION The patented TestMaster® Model 64 Series Hydrostatic Test Tool offers fast, snap-on coupling and positive sealing of tubes and tube assemblies in systems. The hydraulic sealing mechanisms along with the safety spring pre-grip, assure a constant, positive grip during any work or operation cycle. The tool can be used with a variety of services including water, oil, or other liquids on request. APPLICATION The TestMaster® Model 64 Series Hydrostatic Test Tool is a snap-on tool, suitable for hydrostatic pressure testing and hydro-expansion of tubes with working pressures up to 10,000 psi (689 bar). This tool conforms to military, nuclear, automotive, and aerospace testing specifications such as API, ASTM, ASME, ISO, DIN, and BS. This precision-machined tooling provides versatility for use in high-pressure testing applications. Its short, outside collet grip is beneficial for applications with short tube ends. The compact, balanced design of the Model 64 connects and disconnects easily; and is particularly suited for space restricted work areas, such as aircraft hydraulic and fuel lines. The Model 64 Series Tool comes in standard and metric tube, pipe, and fitting sizes from 0.08 in. to 1.66 in. (2.0 mm to 42.2 mm) in diameter. Special tube sizes and tool configurations will be considered upon request. MATERIALS Wetted Parts: Heat-treated, stainless steel TOOL CONFIGURATION Collet Grip and Seal: On tube OD Gripping: Normally-closed Manual lever grip release Pressure-compensated spring grip OPERATING CONDITIONS 10,000 psi (689 bar) 32° F to 120° F (0° C to 49° C) Water, oil, or other liquids on request 0.08 in. to 1.66 in. (2.0 mm to 42.2 mm) Standard tube tolerances Maximum Pressure: Temperature: Services: Tube OD Range: OD Tolerance: OPERATION Connect the Model 64 Tool to the pressure line. Attach the tool to the tube by pressing the handle to retract collets. Push the tube into the tool until pressed against the tube stop. This instantly provides a complete seal. When the tool's handle is released the collets are engaged and ready for safe operation. Next apply test pressure to desired level, but do not exceed maximum operating pressure. To disconnect after operation cycle, press handle to release collets and pull to remove tool.
Open the catalog to page 1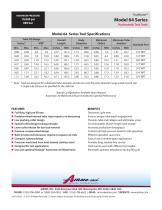 MAXIMUM PRESSURE Model 64 Series Hydrostatic Test Tools Model 64 Series Tool Specifications Tube OD Range * Note: Tools are designed for a dedicated tube diameter and do not cover the entire diameter range noted at each size. A single tube OD must be specified for the collet set. Special Configurations Available Upon Request Automatic Air-Bleed Valve Recommended for Optimal Performance BENEFITS Decreases cycle time Ensures proper tube depth engagement Prevents tube end collapse and eliminates scrap Accommodates shorter length tube or pipe Increases production throughput Contains all...
Open the catalog to page 2
All Airmo Incorporation catalogs and technical brochures

Compare up to 10 products