Catalogs

>

MFM 22 - Handheld measuring instrument for moisture
Catalog excerpts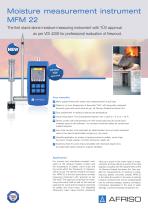 Moisture measurement instrument MFM 22 The first stand-alone moisture measuring instrument with TÜV approval as per VDI 4206 for professional evaluation of firewood. Your benefits enu-guided three-point mean value measurement for split logs M eady in no time: Assignment of favourites "Sort" with frequently measured R firewood types and wood chips as per 1st German Federal Immission Act asy assessment of residual moisture and temperature E isual range alarm: The characteristic flashes if the u value is < 8 % or > 40 % V evice comes with characteristics for 400 wood types and 28 construction D materials stored in the software – no complex conversion tables for construction material required uto-hold function: Fully automatic for determination of an accurate measured A value in the case of electrostatic charge (e.g. dry wood) ersatile application by means of special probes for pellets, wood chips, V log wood, screed, plaster, concrete, brickwork, paper, etc. nsertion probe for wood chips and pellets with improved ergonomics I and optimised cable routing for superior handling Application For precise and standards-compliant evaluation of the residual moisture content and the temperature of pellets, wood chips and log wood within the framework of measurements as per 1st German Federal Immission Act. MFM 22 is the first stand-alone humidity measuring instrument with approval as per VDI 4206. The approval comprises the measuring instrument itself as well as the hammer electrode for wood and the insertion electrode for pellets and wood chips. The integrated three-point mean value function (measured value as a result of the mean value of measurements at three reference points of the split log) also complies with the requirements of the 1st German Federal Immission Act. Also suitable for measurements of moisture in buildings (e.g. plaster, concrete, screed). MFM 22 is the ideal all-rounder in the area of residual moisture measurement and an indispensable tool for chimney sweeps, experts, architects, companies specialised in the area of water damage, wood-processing companies, etc.
Open the catalog to page 1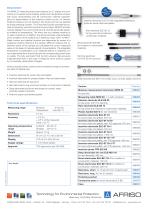 Description The MFM 22 measuring instrument features an LC display and connections for special wood/material probes and temperature probes. 400 wood characteristics and 28 construction material characteristics for determination of the moisture content as per 1st German Federal Immission Act are stored in the device and can be selected by simply pressing a button. The Favourites function provides fast access to frequently used fire woods and wood chips. MFM 22 simultaneously displays the current moisture and a further parameter (selected material or temperature). The menu lets you indicate...
Open the catalog to page 2
All AFRISO-EURO-INDEX catalogs and technical brochures

Archived catalogs

Compare up to 10 products