Catalogs

>

MAXILYZER NG - Flue gas analyser
Catalog excerpts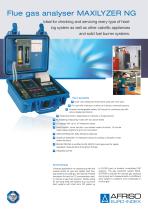 Flue gas analyser MAXILYZER NG Ideal for checking and servicing every type of heating system as well as other calorific appliances and solid fuel burner systems. Your benefits Dust- and waterproof instrument case with vent valve use with maximum number of 6 electro-chemical sensors For Powerful rechargeable battery (24 hours) for continuos use with active display illumination Flushing function, depending on intensity of measurement Multitasking measuring mode with two active levels LC display with up to 10 measured values Hold function, zoom function, core stream search function, 15-minute mean value programme and unit conversion USB and Bluetooth Data Interface (optional) raphical evaluation of measured values according combustion chart G (online function) XILYZER NG is certified to EN 50379-2 and approved for legally MA regulated measurements throughout Europe Integrated printer Anwendung Universal application for measuring small and medium-sized oil, gas and pellets fired heating systems according to the German Federal Immission Act and for CO concentration safety checks at gas fired systems. Ideally suited for servicing solid fuel systems (e.g. log wood fired systems with short-term CO peaks up to 20,000 ppm) or bivalent, modulating CHP systems. The gas treatment system MAXISYSTEM is required for precise gas analyses during long-term measurements or at different sites subject to pollution and condensate in the flue gas.
Open the catalog to page 1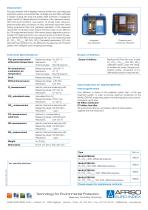 Description Flue gas analyser with integrated thermal printer and dual-stage gas treatment system (condensate filter cartridge and dust filter cartridge) in plastic housing with dust and splash water protection. A graphical, bright, backlit LC display allows for indication of ten measured values. Hold and zoom functions, core search, 15-minute mean value programme (solid fuels), conversion of units, automatic instrument check during programme start and graphical evaluation of the measured values with combustion chart ensure maximum ease of use. Memory for 100 measurement blocks. With sensor...
Open the catalog to page 2
All AFRISO-EURO-INDEX catalogs and technical brochures

Archived catalogs

Compare up to 10 products