Catalogs

>

FloCo-Top-2 - Automatic fuel oil de-aerator
Catalog excerpts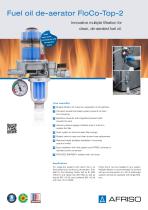 Fuel oil de-aerator FloCo-Top-2 Innovative multiple filtration for clean, de-aerated fuel oil. Even more com w ct due to ne pa rator de-ae hood. Your benefits Multiple filtration for maximum separation of dirt particles Compact double float safety system prevents oil foam from escaping Backflow preventer with integrated pressure relief towards the tank Vacuum pressure gauge indicates when it is time to replace the filter Drain system for fast and clean filter change Bypass valve for easy and clean burner hose replacement Reduced height facilitates installation if mounting space is limited Easy installation with click system and AFRISO universal or standard screw connection PROOFED BARRIER if installed with vent hose Application For single-line systems with return line in oil fired systems for continuous de-aeration. Suitable for the following media: fuel oil EL (DIN 51603-1) and diesel fuel (EN 590) as well as biofuel (EN 14213) and biodiesel (EN 14214) with max. 20 % FAME. FloCo-Top-2 can be installed in any system. Multiple filtration is recommended for burners with an oil consumption of < 20 l/h while larger systems should be operated with single filtration.
Open the catalog to page 1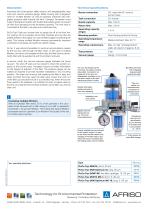 Technical specifications Description Automatic fuel oil de-aerator, safety version, with integrated filter, stop cock and vacuum pressure gauge. Metal housing with changeover valve for multiple filtration as well as backflow preventer with integrated pressure relief towards the tank. Compact De-aerator hood made of transparent plastic with double float safety system to prevent oil foam from escaping via the de-aerator opening. The vent hose is connected at the side in an easy and unobtrusive way FloCo-Top-2 lets you choose how to supply the oil to the flow line: For venting, the oil is...
Open the catalog to page 2
All AFRISO-EURO-INDEX catalogs and technical brochures

Archived catalogs

Compare up to 10 products