Catalogs

>

EUROLYZER STe - Flue gas analyser
Catalog excerpts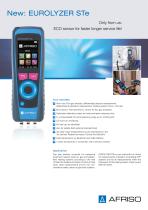 New: EUROLYZER STe Only from us: ECO sensor for faster longer service life! Your benefits All-in-one: Flue gas analysis, (differential) pressure measurement, (differential) temperature measurement, heating system check, 4-Pa test ECO sensor: First lead-free O2 sensor for flue gas analysers Optimized calibration phase and reduced faster response time H2-compensated CO cell (measuring range up to 10,000 ppm) CO room air monitoring NO cell can be retrofitted Also for pellets-fired systems (standard fuel) qA mean value measurement as per amendment to the 1st German Federal Immission Control Act BlmSchV Data transmission via Bluetooth and USB interface 7 years full warranty in connection with a service contract Application Flue gas analysis computer for measuring small and medium-sized oil, gas and pelletsfired heating systems according to the new 1st German Federal Immission Control Act (qA mean value measurement) and for CO concentration safety checks at gas fired systems. EUROLYZER STe is your instrument of choice for measurements of bivalent, modulating CHP systems and for all measurements within the framework of the heating system check as per DIN EN 15378.
Open the catalog to page 1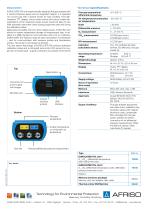 Technical specifications Description EUROLYZER STe is an ergonomically designed flue gas analyser with a robust protective sleeve and an integrated magnet. It is operated via a touch pad with a special recess for easy scrolling. The highresolution TFT display, colour-coded menus and colour-coded representations of the measured values ensure maximum ease of use. With automatic instrument check during programme start and during the calibration phase. Measuring is possible with two active display levels. A MicroSD card allows for system-independent storage of measurement logs. In addition to a...
Open the catalog to page 2
All AFRISO-EURO-INDEX catalogs and technical brochures

Archived catalogs

Compare up to 10 products