Catalogs

>

E2T Quasar 2 Datasheet
Catalog excerpts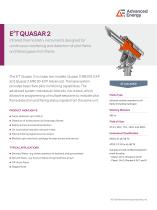 Infrared thermometry instruments designed for continuous monitoring and detection of pilot flame and flared gases from flares. The E2T Quasar 2 includes two models: Quasar 2 M8100-EXP and Quasar 2 M8100-EXP Advanced. The base system provides basic flare pilot monitoring capabilities. The advanced system includes an intensity mA output, which allows the programming of multiple setpoints to indicate pilot flame detection and flaring status signals from the same unit. PRODUCT HIGHLIGHTS ■ Flame detection up to 400 m ■ Detection of hydrocarbon and hydrogen flames ■ Safety and environmental protection ■ On-board pilot loss alarm set point relay ■ Pilot and flaring signal level mA output ■ Modular opto-electronic package for easy access and service TYPICAL APPLICATIONS ■ Elevated flares - e.g. steam assisted, air assisted, and gas assisted ■ Ground flares - e.g. burn pit flares and ground flare arrays ■ Off-shore flares ■ Staged flares AT A GLANCE Flame Type Infrared monitor sensitive to all flame including hydrogen Working Distance 400 m Field of View 37.5:1, 60:1, 75:1, 150:1 and 300:1 Hazardous Classification IECEx Ex db IIB T4 ATEX II 2 G Ex db IIB T4 Canada and US certified explosion-proof housing • Class I, Div 1, Groups C and D • Class I, Div 2, Groups A, B, C and D ©2019 Advanced Energy Industries, Inc.
Open the catalog to page 1
Safe flare operation and environmental protection require reliable and accurate flare pilot monitoring. Generally, flare pilots are monitored with thermocouples that often fail due to thermal shock caused by extreme heat and vibrations during flaring events. The requirement for pilot monitoring beyond the normal life of pilot thermocouples has driven the market need for alternative methods, which requires installation of a redundant method of pilot monitoring to back up the standard pilot thermocouples. The E2T Quasar 2 instruments provide continuous monitoring and detection of pilot flame...
Open the catalog to page 2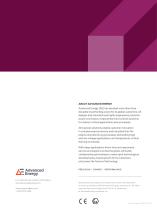 Advanced Energy For international contact information visit advancedenergy.com. sales.support@aei.com +1 970 221 0108 ABOUTADVANCED ENERGY Advanced Energy (AE) has devoted more than three decades to perfecting power for its global customers. AE designs and manufactures highly engineered, precision power conversion, measurement and control solutions for mission-critical applications and processes. AE's power solutions enable customer innovation in complex semiconductor and industrial thin film plasma manufacturing processes, demanding high and low voltage applications, and...
Open the catalog to page 4
All Advanced Energy Industries Inc. catalogs and technical brochures

Compare up to 10 products