Catalogs

>

ABIBLUE
Catalog excerpts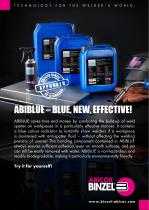 ABIBLUE – BLUE, NEW, EFFECTIVE! ABIBLUE saves time and money by combating the build-up of weld spatter on workpieces in a particularly effective manner. It contains a blue colour indicator to instantly show welders if a workpiece is moistened with anti-spatter fluid – without affecting the welding process of course! The bonding component contained in ABIBLUE always ensures sufficient adhesion, even on smooth surfaces, and yet can still be easily removed with water. ABIBLUE is non-hazardous and readily biodegradable, making it particularly environmentally friendly. Try it for yourself!
Open the catalog to page 1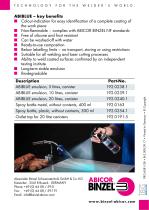 Description ABIBLUE emulsion, 5 litres, canister ABIBLUE emulsion, 10 litres, canister ABIBLUE emulsion, 20 litres, canister Spray bottle metal, without contents, 400 ml Spray bottle, plastic, without contents, 500 ml Outlet tap for 20 litre canisters Alexander Binzel Schweisstechnik GmbH & Co. KG Kiesacker · 35418 Buseck · GERMANY Phone: +49 (0) 64 08 / 59-0 Fax: +49 (0) 64 08 / 59-191 Email: info@binzel-abicor.com w w w .binz e l- abicor.c om PRO.A081.GB • Bi-2.000.09.17 • Printed in Germany • © Copyright ABIBLUE – key benefits ■■ Colour-indication for easy identification of a complete...
Open the catalog to page 2
All ABICOR BINZEL catalogs and technical brochures

Archived catalogs
Compare up to 10 products