Catalogs

>

RobotWare Cutting
Catalog excerpts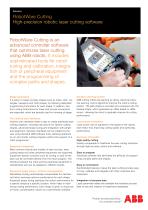 RobotWare Cutting High-precision robotic laser cutting software RobotWare Cutting is an advanced controller software that optimizes laser cutting using ABB robots. It includes sophisticated tools for robot tuning and calibration, integration of peripheral equipment and the programming of complex paths and shapes. Shape generation It is easy to create complex shapes such as holes, slots, rectangles, hexagons and CAD shapes, by following dedicated programming instructions for each shape. In addition, free form cutting instructions for linear and circular movements are supported, which are typically used for trimming of edges. The intuitive user interfaces Intuitive user interfaces make it easy to create advanced laser cutting programs, including instructions for specific cutting shapes, advanced shape tuning and integration with peripheral equipment. Operator interfaces can be created by the user using standard ABB software tools, allowing operators to run and modify cutting programs without the support of a robot programmer. Equipment integration Most common brands and models of laser sources, laser cutting heads and other peripheral equipment are supported. Equipment specific functions such as turning on and off the laser can be controlled directly from the robot program. The interface between the robot and the peripheral equipment is standardized and can be adapted to different brands. Advanced shape tuning – Friction compensation RobotWare Cutting automatically compensates for mechanical friction ensuring optimum performance for each shape. Advanced shape tuning optimizes the motion performance for a specific shape at a specific location, which helps in maximizing cutting performance. Each shape is given a unique set of friction compensation values via a user-friendly interface. Iterative Learning Control ABB cutting robots are learning by doing. Advanced iterative learning control algorithms improve the robot's cutting pattern. The path shape is recorded and compared with the desired shape, which generates an offset based on differences – allowing the robot to gradually improve its cutting performance. Laser power modulation Laser power can be adjusted to the speed of the robotic laser head, thus improving cutting quality and optimizing perfor­mance. Summary of benefits High quality cutting Quality comparable to traditional five-axis cutting machines through high accuracy robots and software. Easy to program Advanced software that eliminates the difficulty of programming complex paths and shapes. Easy to commission Sophisticated features makes the laser cutting process easy to tune, calibrate and integrate with other machines and equipment. Integration of process data Laser parameter tables are available that facilitate process date re-use and creation of experience databases.
Open the catalog to page 1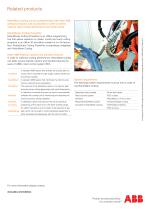 Related products Robot­ tudio Cutting PowerPac S RobotStudio Cutting PowerPac is an offline programming tool that allows operators to create, modify and verify cutting programs in an offline 3D simulation instead of on the factory floor. RobotStudio Cutting PowerPac is seamlessly integrated with RobotWare Cutting. Other ABB Robotics options and standard features In order to maximize cutting performance, RobotWare Cutting can apply several popular options and standard features for users of ABB's robot control system IRC5. A standard ABB feature that enables the precise path acTrueMove curacy...
Open the catalog to page 2
All ABB Robotics catalogs and technical brochures

Compare up to 10 products