Catalogs

>

IRB 8700
Catalog excerpts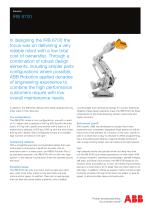 In designing the IRB 8700 the focus was on delivering a very reliable robot with a low total cost of ownership. Through a combination of robust design elements, including simpler parts configurations where possible, ABB Robotics applied decades of engineering experience to combine the high performance customers require with low overall maintenance needs. In addition, the IRB 8700 delivers 25% faster speeds than any other robot in this class size. Two configurations The IRB 8700 comes in two configurations, one with a reach of 4.2 meters and a payload of 550 kg (620 kg with the wrist down; 475 kg with LeanID) and another with a reach of 3.5 meters and a payload of 800 kg (1000 kg with the wrist down; 630 kg with LeanID). Both configurations have an incredibly high moment of inertia at 725 kgm2. Outstanding reliability With a straightforward and uncomplicated design that uses world-class components, LeanID for the best cost-toendurance ratio in a dress pack, and ABB's Foundry Plus 2 as standard protection, the IRB 8700 will run with very high uptime—a key feature in production lines that operate around the clock. Simplified design The IRB 8700 has only one motor and one gear per robot axis, while most other robots in this size class use dual motors and/or gears. In addition, there are no gas springs that can leak and cause safety problems, only a reliable counterweight and mechanical springs for counter balancing. Together these design elements mean the IRB 8700 has fewer components to fail while delivering shorter cycle times and higher accuracy. Built around LeanID With LeanID, ABB has developed a concept that is less expensive than completely integrated dress packs but still delivers most of the benefits for a fraction of the cost. LeanID results in a robot that is easy to simulate in offline programming, has a long dress pack lifetime, supports flexible production with a large working range, and can easily enter tight spaces. Fast High payload robots are typically known as being very slow, but the IRB 8700 turns these assumptions on their head. With a compact footprint, optimized counterweight, parallel linkages, stiff axes, and fewer drive motors, the IRB 8700 keeps its momentum down and speed up. In fact, all of these improvements add up to a robot that is 25 % faster than any other robot in its size class. In addition, thanks to superior motion control at high moments of inertia (725 kgm2) the robot can adapt, or slow its speed, to accommodate heavy and wide parts.
Open the catalog to page 1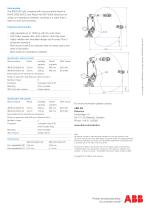 Sustainable The IRB 8700 fully complies with environmental directive RoHS 2002/95/EC and Reach No1907/2006 directives for using non-hazardous materials, resulting in a robot that is safer for work environments. Features and benefits Specification without LeanID Robot versions Wrist torque Extra loads can be mounted on all variants. 50 kg on upper arm and 500 kg on frame of axis 1. Number of axes Complete robot IP 67 Floor mounted Single cabinet Specification with LeanID Robot versions Wrist torque Extra loads can be mounted on all variants. 50 kg on upper arm and 500 kg on frame of axis 1....
Open the catalog to page 2
All ABB Robotics catalogs and technical brochures

Compare up to 10 products