Catalogs

>

IRB 2400 Industrial Robot
Catalog excerpts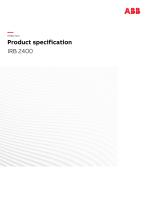 IRB 2400 Industrial Robot Main Applications Arc welding Cutting/Deburring Glueing/Sealing Grinding/Polishing Machine tending Material handling Most popular industrial robot IRB 2400 comprises a complete family of application optimized robots that maximize the efficiency of your arc welding, process and tending applications. The IRB 2400 is a real hard worker. It can take additionally 35 kg load on axis 1 and up to 12 kg additional load on the upper arm - still keeping 100 % duty cycle. Other models offer handling capacity of up to 20 kg, excellent motion control, large load offset and unlimited motion in axis 6. This means there's an IRB 2400 robot to give you excellent performance in your material handling, tending and process applications. All models offer you inverted mounting capability. The compact design of the IRB 2400 ensures ease of installation. The robust construction and use of minimum parts contribute to high reliability and long intervals between maintenance. The Foundry Plus 2 version is washable with high pressure steam and it's supplied with increased environment protection meeting IP 67 standard.
Open the catalog to page 1 Electrical Connections Arc welding, cutting/deburring, glueing/sealing, grinding/polishing, Supply voltage machine tending, material handling Power consumption Environment Specification Ambient temperature for mechanical unit: Reach Payload Protection During operation FoundryPlus Degree of protection Floor and inverted all versions. Foundry Plus 2 version Supplementary load Noise level Base unit Data and dimensions may be changed without notice Total height Robot base Robot weight Performance (according to ISO 9283) Position repeatability (RP) Path repeatability © Copyright ABB Robotics....
Open the catalog to page 2
All ABB Robotics catalogs and technical brochures

Compare up to 10 products