Catalogs

>

ABB Laser Cutsheet_IRBP R
Catalog excerpts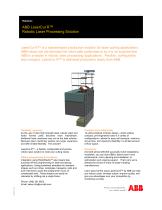 ABB LaserCut RTM Robotic Laser Processing Solution LaserCut R™ is a standardized production solution for laser cutting applications. ABB robots set the standard for robot path performance so it is no surprise that ABB is a leader in robotic laser processing applications. Flexible, configurable and compact, LaserCut RTM is delivered production ready from ABB. Flexibility, accuracy As the use of ultra high strength steel, tubular steel and hydro formed parts becomes more mainstream, traditional laser machines may not be the best solution. Because laser machining centers are large, expensive and offer limited flexibility. The answer? Compact and configurable Its self-contained modular design—which utilizes compact, pre-engineered cells in a variety of configurations—allows for easy cell transport, minimum set up time, and maximum flexibility in a limited amount of floor space. LaserCut RTM – a flexible, configurable and precise robotic laser solution to meet your cutting needs. Experience And with almost 200,000 successful robot installations worldwide, you can trust ABB to deliver end to end performance—from planning and installation, to optimization and ongoing support. That's why we're already the choice of many of today's leading manufacturers Offline programming & simulation Integration using RobotStudio™ also means fast, accurate off-line programming for laser processing applications. Using predefined templates for standard shapes such as circles, rectangles, hexagons, slots and even free-forms saves the programmer hours of complicated work. These shapes can easily be relocated by shifting just a single frame. Phone: (248) 391.8622 Email: sales.info@us.abb.com Learn about all the ways LaserCut RTM by ABB can help you reduce costs, increase output, improve quality, and give you advantages over your competition by contacting us today.
Open the catalog to page 1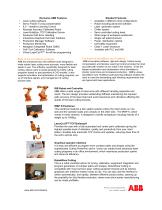 Exclusive ABB Features Laser cutting software Servo Friction Tuning compensation ILC – Iterative Learning Control Absolute Accuracy Calibrated Robot Laser BullsEye, TCP Calibration Device Advanced Cell Error Handling Interactive Graphical Cell User Interface Production Manager Software Production Monitoring Navigator (Integrated Robot CMM) Cell/ Tool Calibration Software Virtual LaserCut RTM for off-line programming State of the art software packages ABB has introduced two new software tools designed to make robotic laser cutting more accurate, more flexible and easier to use. The software,...
Open the catalog to page 2
All ABB Robotics catalogs and technical brochures

Compare up to 10 products