Catalogs

>

4B - AutoSet RF Capacitance Point Level Probe
Catalog excerpts
Product Information Radio Frequency (RF) Capacitance Point Level Indicator APPLICATION The Auto-Set series RF capacitance point level monitors are used for detecting high, intermediate, or low levels of liquids, powders and free flowing granular solids stored in tanks, bins, silos or other containers. METHOD OF OPERATION The Auto-Set series incorporates simple push-button calibration with microprocessor enable/disable switch for total protection of stored values. Once the Auto-Set is calibrated for the application it never has to be re-calibrated. Data is stored in non-volatile memory, so it is not affected by power loss. A four-digit LED display shows set values for uncovered, covered and trip settings, allowing simple set-up and adjustment. A set of voltagefree changeover relay contacts are actuated when the level of the material in the container reaches the probe. The unit incorporates a unique power shield which automatically compensates for material buildup around the probe and on the sides of the container, preventing false indication. The solid-state electronics are housed in a weatherproof, flame retardant, glass-reinforced nylon enclosure. The Auto-Set series can be top or side mounted, and are available with 100mm, 200mm, 1m, or 2m 316 solid stainless steel probes. For applications up to 10m long (maximum), 304 stainless steel wire is used to extend the probe length. The Auto-Set can be used with container walls up to 270mm thick. 100mm FEATURES ► High and Low Level Fail Safe Indication ► Multi-Voltage (110/240 VAC or 24 VDC) ► Push Button Calibration ► Digital Display & Internal Timer ► 100mm to 10m Probe Lengths ► Power Shield Compensates for Material Build-Up on Probe ► Remote Models for High Temperature or Vibration Areas ► Flush Probe Version for Close Fitting Applications PART NUMBERS/ACCESSORIES ► ATS8V0AI Auto-Set - Walls Up To 75mm Thick ► ATS8V0AI-300 Auto-Set - Walls 75 to 270mm Thick ► ATSP10 316 Stainless Steel Probe, 100mm Length ► ATSP11 316 Stainless Steel Probe, 200mm Length ► ATSP12 316 Stainless Steel Probe, 1m Length ► ATSP13 316 Stainless Steel Probe, 2m Length ► ATSWP11 316 Stainless Steel Probe wire probe, 10m Length, can be cut to length required ► SMP1 Mounting Plate (Stainless Available) Detailed specification, wiring diagrams and installation/operating instructions available upon request. ATEX Approved Please refer to instruction manual for correct installation. Information subject to change or c
Open the catalog to page 1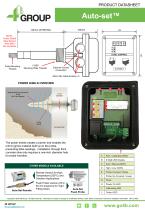 Product Information 144mm (ATS8V0AI) NOTE Power Shield Must Extend 6mm (Min.) Into Container Probe Mounting Threads 1" BSP Mounting Plate Threads External Ground Connection 20mm Dia Cable Entries x 2 POWER SHIELD OVERVIEW Material Build Up Ignored By Probe (No False Signals) Power Shield Concrete Wall The power shield creates a barrier and enables the unit to ignore material built up on the probe, preventing false readings. Installation through thick concrete silos only requires a one inch diameter hole for probe insertion. A - Calibrate / Park Switch B - LED Display C - Auto / Manual...
Open the catalog to page 2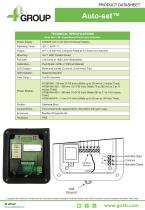 Product Information BRAIME TECHNICAL SPECIFICATIONS Auto-Set™ RF Capacitance Point Level Indicator MODELS: ATS8V0AI, ATS8V0AI-300 Power Supply: Operating Temperature: Sensitivity: Calibration: LED Display: LED Indicator: Time Delay: Power Shield: Probes: Conduit Entry: Enclosure Protection: 120/240 VAC or 24 VDC (Universal Supply) -20°C to +50°C 0.5 Pico Farad 1 Set of Voltage-Free Changeover Relay Contacts Low Level (Energized When Covered) High Level (Energized When Uncovered) Push Button (With or Without Material) Measured Values (Covered, Uncovered, Trip) Material Detection 0 - 60...
Open the catalog to page 3
All 4B Braime Components catalogs and technical brochures

Archived catalogs

Compare up to 10 products