Catalogs

>

3M Peltor PowerComm-BRS Two-Way Radio Headset
Catalog excerpts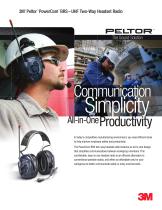 3M Peltor PowerCom BRS – UHF Two-Way Headset Radio ™ Simplicity All-in-One In today's competitive manufacturing environment, you need efficient tools to help improve employee safety and productivity. The PowerCom BRS two-way headset radio features an all-in-one design that simplifies communications between workgroup members. This comfortable, easy-to-use headset radio is an efficient alternative to conventional portable radios, and offers an affordable way for your workgroup to better communicate safely in noisy environments.
Open the catalog to page 1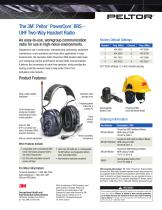 The 3M Peltor PowerCom BRS – UHF Two-Way Headset Radio ™ An easy-to-use, workgroup communication radio for use in high-noise environments. Factory Default Settings Channel Designed for use in construction, manufacturing, processing, equipment maintenance, crane operations and many other applications in noisy environments, the innovative Peltor PowerCom BRS headset radio helps your workgroup improve performance through better communications. It delivers the convenience of cable-free operation, while providing the hearing protection workers need to help protect them from workplace noise...
Open the catalog to page 2
All 3M Occupational Health/Environmental Safety catalogs and technical brochures

Archived catalogs