Booth:

YOKOGAWA Europe
Group: Yokogawa
Integrated Production Control System CENTUM VP -
11 Pages
The next step in evolution
CENTUM VP
OENTUMWP
The core platform for Yokogawa VigilantPlant® Solutions.
Designed to empower all members in the production value chain
to See Clearly, Know in Advance, and Act with Agility
Bulletin 33K01A01-50E
yokogawa.com/centumvp
vigilantplant.
Hie clear path to operational excellence
YOKOGAWA ♦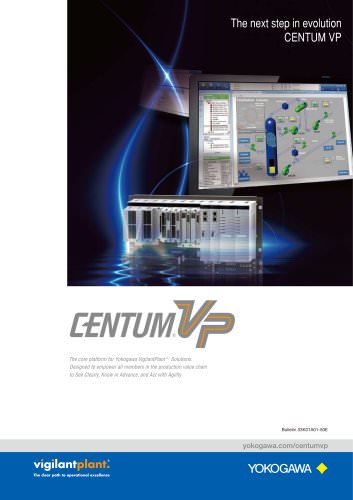 P. 2

VigilantPlant: smart ideas Redefining VigilantPlantFor years, Yokogawa has used the word "VigilantPlant" as our vision for operational excellence.What...

P. 3

The CENTUM VP advantagesCENTUM VP ushers in an operating environment that keeps everyone fully aware,well informed, and ready to face the next challenge.Information...

P. 4

A simple & common architecture covers a variety of plant sizes & industriesCENTUM VP has a simple & common architecture consisting ofhuman...

P. 5

Intuitive human machine interface for plant operationCENTUM VP has a new HMI ( human machine interface )that makes information access quicker and more...

P. 6

Safety and reliability are the corefundamentals of all production activitiesAll field control stations (FCSs) in the CENTUM series, including software...
Text version
All YOKOGAWA Europe catalogues and technical brochures