Gas turbo heaters/MJ4 CHD Series -
2 Pages
wayler s.a.
Ameghino 1877 - (1407) Capital Federal / Argentina Tel./Fax: (0054-11) 4682-9114 - 4683-5233 www.rubcar-borghi.com.ar / wayler@rubcar-borghi.com.ar
Gas Turbo-Heaters
MJ4 LINE - CHD SERIES
The MJ4 Line CHD Series Turbo-heaters (heater - horizontal - direct) have been designed to meet the heating requirements of major volumes, such as reception rooms, industrial halls, warehouses, churches, galleries, gyms, farms, greenhouses, etc. They can also be used in a variety of drying, curing, preheating, or setting applications.
These burners are completely automated and include pre-ventilations, airflow control, automatic firing, temperature control and state-of-the-art flame programmer.
In addition to their design and robust construction, the MJ4 Line CHD Series burners incorporate cutting-edge combustion technology.
They include a micro-perforated gas burning system appropriate for natural gas or LPG, which provides complete CO-free and low-NOx combustion, thus preventing atmospheric pollution.
Due to the excellent engineering of the ventilation fins, the fan has low sound emissions.
FACTORIES
WAREHOUSES
GALLERIES
RESTAURANTS
GYMS
PRINTING SHOPS
FARS
GREENHOUSES FLORICULTURE
WORKSHOPS DRYING
SETTING
PRE-HEATING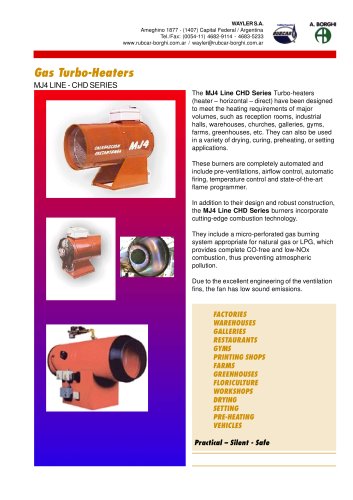 Text version
All Wayler catalogues and technical brochures