Booth:

WALKER MAGNETICS
Group: WALKER MAGNETICS GROUP
Wokholding brochure -
32 Pages
WALKER
MAGNETICS
Magnetic Solutions Since 1896
MAGNETIC
WORK HOLDING
Permanent / Electromagnetic / Electropermanent / Rotary / Controls
I
« in the World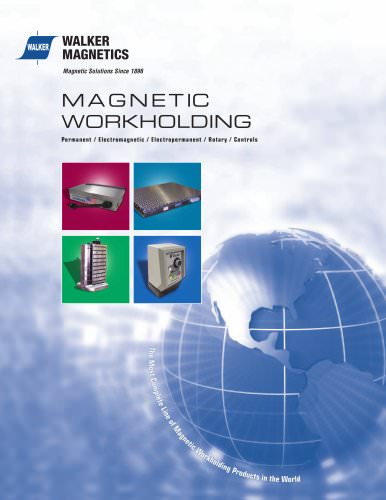 P. 2

M A G N E T ICWORKHOLDINGPermanent / Electromagnetic / Electropermanent / Rotary / ControlsThe magnetic chuck was invented by Oakley S. Walker in 1896....

P. 3

Applications / Product Types    PermanentElectromagneticcieciropermaneniGrindingPageCeramax 5Neomicro2 6Sine Chucks 7PageLBP 15Interloc...

P. 4

Permanent Walker permanent chucks are manually operated. Made with powerful permanent ceramic and rare earth (NEO) magnet materials, these chucks...

P. 5

CE RA M AX Fine Division Permanent Magnetic Chuck The Ceramax is the most widely used permanent magnetic chuck in the machine tool industry. Its...

P. 6

NEOMICRO2 Super Accurate, Micropitch Permanent Magnetic Chucks for Precision Grinding Maximum grinding accuracy • Unique actuating mechanism...
Text version
All WALKER MAGNETICS catalogues and technical brochures
Archived catalogues
magnetic eddy current

4 Pages