Cutting Table Magnets -
1 Pages
The fastest way to clear a cutting table
Walker can keep your cutting machine cutting.
A cutting table that isn't cutting just doesn't cut it. In factH it's costing you
time and — money, A magnet system from Walker Magnetics can change all
that. We have been providing magnetic solutions for over 100 years. Put that
experience to work improving your bottom lino. Here are some of the ways
a Wal kar magnet system can holp:
* Use the magnetic toad the plate
andthen after cutting, unload cut
parts and skeleton ir one step
* Eliminate time consuming
handling methods such as dogs,
grabs and chains
■ Cutmore psrts psr shift by
maximizing torch time
■ Separate parts from skeleton
to improve the sorting process
■ Stop using the cutting ta ble
as a sorting table
« Deliver new plates faster
■ Move parts through the shop on time
* Increase safety hy keeping operators
off the table
One size doesn't fit all.
Walker magnet systems are designed
to meet the special material handling
needs required in precision flame.
plasma, waterjet and laser cutting
table operations. A Walker applications
engineer can work closely with you
to tailor a system to meet the specific
needs of your operation.
Enjoy a bigger piece of the pie with Walker.
Additional Cutting
e with Walker
Decrease Load/Unload Time, Increase Torch Time
Free Brochure.
Find out how a Walker magnet system
can raise productivity and profitabiEity tor
your operation. For more information or to
discuss your application with an engineer,
please call 1-800-962-4638 Send email
to sales@walkerniannet.CDin.
Or visit Walker Magnetics on the weh
at www,waIkoimagnet.com. And kaep
your cutting table Gutting.
ámr WALKER
JSM MAGNETICS
ìuuijr.iuflIkìrrftapei.Lùrc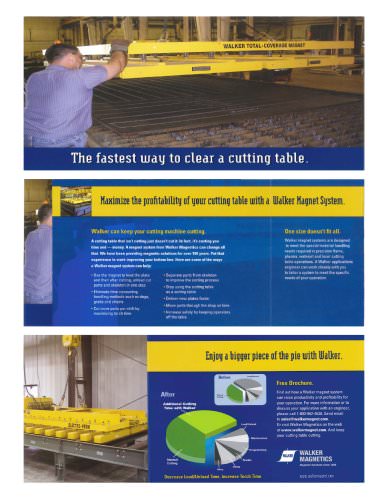 Text version
All WALKER MAGNETICS catalogues and technical brochures
Archived catalogues
magnetic eddy current

4 Pages