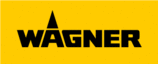 Booth:
WAGNER
WAGNER Thermo-technology -
2 Pages
20 30 40 50 60°C
Viscosity DIN/sec
60
55
50
45
40
35
30
25
20
15
10
5
0
(water based paint, air drying)
Very warmly recommended by professionals
WAGNER Thermo-technology!
PUMA® 28-40 and LEOPARD® 35-70
pneumatic piston pumps
with A 32 Ex through-flow heater:
Perfect combination
Optimal quality
Universal use
Electrostatic systems
The GM 2000 EAC gun with the
VM 2000 control unit and the
LEOPARD 35-70 will coat difficult
to reach objects to a brilliant finish.
Elasto-Spray 600
for working with 2 K elastomers
(polyurethane, polyurea, epoxy
materials) with reaction times down
to 2 seconds. For applications in
corrosion protection, wear resistance
and building protection.
Intellimix 2
Electronic low-pressure 2 component
unit for up to 25 colours and 5 hardeners
and mixing ratios of 1:1 to 20:1.
As the specialist in surface coating
techniques WAGNER has
"a solution for every task".
Complex systems for the painting
industry
Agricultural vehicles
High-pressure thermo-hose
7.5 m long and A 32 Ex through-flow
heater together with a double diaphragm
pump and LEOPARD 35-70
pneumatic piston pump.
Mixing and dispensing systems
2 K high-pressure equipment
with variable mixing ratios from the
small Compact unit for wood and
metal coating up to large installations
for shipbuilding and corrosion
protection.
Printed in Germany · Subject to alterations · GB · 9121 5663 · 9/2000 · TW
Competence has a name:
WAGNER
Universal use!
WAGNER pumps with Thermotechnology
can be used in heavy
steel construction, in shipbuilding,
when processing plastics (e.g. car
accessories), in wear proofing, the
manufacture of furniture, window
production joinery work etc.
They can be used universally and
guarantee perfect results with:
¡ Low to high viscosity
materials
¡ Solvent based materials
¡ Low solvent materials
¡ Solvent free materials
¡ Water diluted paint systems
¡ 1 and 2 K materials
¡ Primers
¡ Fillers
¡ Corrosion proofing
¡ Elastomers
Equipment and machinery builders
Furniture manufacture
Plastic processing
Window production
Optimal quality
Controlling the temperature of the
material gives a distinct improvement
in quality:
¡ better atomisation
¡ faster degassing
¡ shorter drying times
¡ excellent flow characteristics
¡ homogeneous, smoother
surfaces
www.wagner-group.com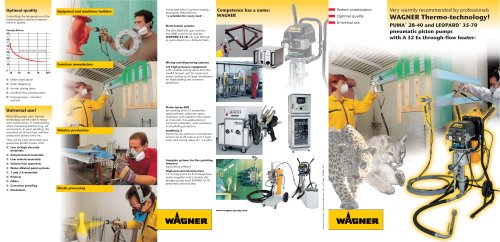 P. 2

ABDFEIHGLLKCN MTechnical DataPUMA 28-40 LEOPARD 35-70Transmission ratio 28:1 35:1Volumetric flow per double stroke 40 cc 70 ccMax. working pressure 224...
Text version
All WAGNER catalogues and technical brochures