WAGNER BASIC Spray Booth Systems -
2 Pages
Industrial Solutions
WAGNER BASIC Spray Booth Systems
The affordable booth system for small business and newcomers
When it comes to adopting new technologies like changing from wet to powder coating, it is crucial to choose affordable
and reliable Equipment that gets the job done from the first minute you turn it on. This is exactly what WAGNER offers with
its BASIC 4000 and 8000 Booth Systems: inexpensive, dependable and durable powder coating gear. An effective usage of
the coating powder and the compliance with important industry standards contribute to the high efficiency of the WAGNER
BASIC booth systems.
BENEFITS FOR THE USER:
■■
■■
■■
■■
■■
Optimized coating opening
Easy operation
Energy saving air circulation (the extracted air is
fed back into the paint shop)
Economical in spray-to-waste mode
Connection for WAGNER PrimaSprint
control units
■■
Easy installation by the user *
- pre-assembled suction unit
- steel sheets delivered on pallet
- installation material included
- assembly instructions included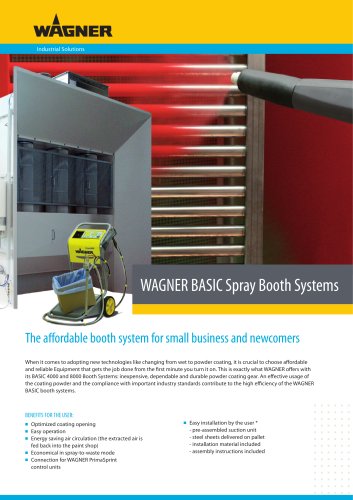 Text version
All WAGNER catalogues and technical brochures
Archived catalogues