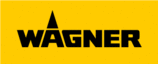 Booth:
WAGNER
ProfiTech -
2 Pages
Complex system controls –
easy to use with touch screen
ProfiTech: controls and thinks for itself!
The ProfiTechcontrol
system
With ProfiTech you have the
complete powder coating
system under control. Even
complex control relationships
can be easily operated without
complications via the touchscreen.
From simple operation
to parameterisation, exact
troubleshooting through to
data save and process data
recording, the system provides
it all at a glance.
Simple operation
directly on the screen
¡ Everything under control
due to the real time
visualisation of the coating
process
CONVENIENT
PROFESSIONAL
RATIONAL
¡ Operation through touch
control and menu guidance
¡ Input and output of all parameters
in physical units, e.g.
gun – workpiece distance
in cm
¡ Recording and evaluation of
operating data
¡ Interfaces to the data
communications and remote
modem control
¡ System status display
¡ Lon bus modules for spray
gun control
¡ Cascade characteristic curve
freely programmable
¡ Air flow rate control with
precision to 0.01 Nm3/h,
hence perfect control during
low powder discharge with
AFC-HP-D1
¡ Maintenance interval
indication
¡ DDF controller
www.wagner-systems.com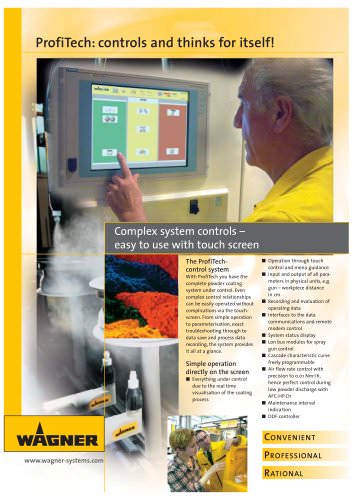 P. 2

Complex coating tasks: ASRautomatic sine curve controlThe ASR automatically controlsthe gun spray paths. ASR ensuresuniform object coating withoutsmears...
Text version
All WAGNER catalogues and technical brochures