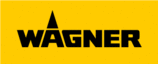 Booth:
WAGNER
Powder coating systems from Wagner -
2 Pages
www.wagner-systems.com
Printed in Germany • subject to changes • GB • 9122-707 • 03/06
Powder logistics, powder circulation and recovery
Wagner movement technology
In the choice of a coating system for fast
colour changes not only the booth system
but also the whole plant including all components
should be evaluated. The new
Comfort Powder Centre is at the heart of
the powder supply and fundamentally
involved in the success of fast colour
changes. Speed and high quality of the
colour change are decisive criteria.
Intelligent powder logistics for fast, cost-effective
production runs.Wagner offers all components
from its own development and manufacturing
departments – precisely matched to the
particular plant design being used. From powder
return systems through the cyclone right up to
the control and powder feed technology.
The coating of complicated components such as
the internal coating of cabinets requires individual
movement of guns independently of each
other. A highly complex process,which up to
now has usually been managed with the use of
robots. This is precisely where 3D coating technology
from Wagner comes in. An axis for each
module – individually controllable and precise in
application – for perfect coating
results even without expensive robot
technology.
Automatic movement units are subject
to constant loading. Reliability
and sturdiness therefore play a decisive
role in the stroke mechanisms.
In interaction with the electronic controller,
Wagner technology meets the
high application demands and optimal
surface finish.
J.Wagner GmbH
Otto-Lilienthal-Str. 18
88677 Markdorf
Germany
Tel. +49 (0) 7544 505-0
Fax +49 (0) 7544 505-200
J.Wagner AG
Industriestraße 22
9450 Altstätten/SG
Switzerland
Tel. +41 (0) 71 7572211
Fax +41 (0) 71 7572222
Intelligent movement technology for almost
every application. Perfectly matched components
for lifting and 3D movement processes.
Complete powder logistics with Wagner
systems technology! Powder handling and
recovery, effective concepts for fast colour
changes and much more.
www.wagner-systems.com
Precision in surface coating –
Wagner meets the highest
demands
Powder coating systems from Wagner
Cyclone
Powder return
Fresh powder
Pumps with
controller
Transfer
pump
Worldwide service and assembly network / Customer Service
Hotline Original Wagner spare and wear parts with finest
technology in every detail
Technical centres and centres of expertise for application
technology Professional training concept for customers and
users Development centres in Markdorf and Altstätten (CH)
Reliable know-how over and above the product: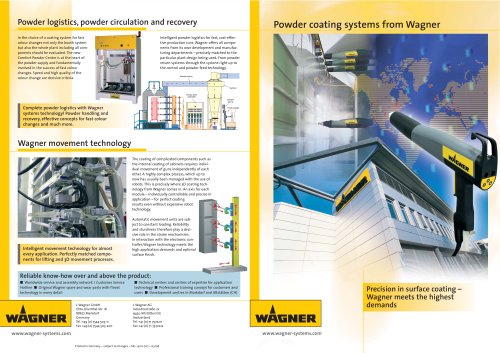 P. 2

Wagner – the companyThe Wagner group – an association of companiesspanning the world which is successfullyasserting itself in a leading role...
Text version
All WAGNER catalogues and technical brochures