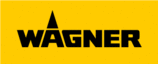 Booth:
WAGNER
DigiTech -
2 Pages
DigiTech: Save Powder with System!
EASY TO USE
ROBUST PROCESSES
GROWS WITH YOU
The new DigiTech!
The newly developed DigiTech
control system pursues new
methods of surface technology.
For the first time in the history of
electrostatic powder coating, a
wide range of users are given
access to a high degree of automation
and at the same time
the operator guidance for the
user has been designed to be
consequentially simple and functional.
This is made possible by
the modular system which cannot
only be individually matched
to the respective task but also
flexibly grows with the requirements.
Modular flexibility
The possible configurations
range from simple manual coating
mode to the configuration
of a simple automatic system
with rigid spray guns, integration
of lifting devices, height, gaps,
and depth controls through to a
fully automated coating cabin
with up to 60 spray guns and
eight lifting devices.
¡ The system which grows with
the tasks
¡ Easy to use
¡ Increases the coating quality
¡ Ó Saves costs due to more
effective powder dosing and
Genius technology
The complete modular controller –
the system which grows with the future
www.wagner-systems.com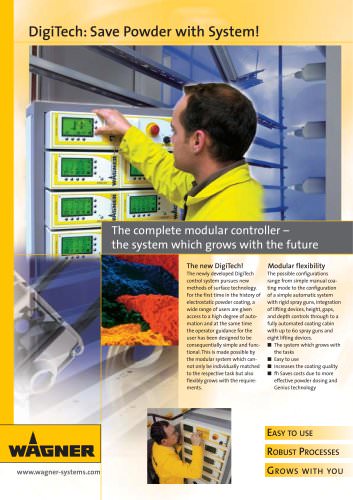 P. 2

J.Wagner GmbHOtto-Lilienthal-Str. 1888677 MarkdorfTelefon: 0 75 44 / 505-0Telefax: 0 75 44 / 505-200J.Wagner AGIndustriestraße 22CH-9450 Altstätten/SGTelefon:...
Text version
All WAGNER catalogues and technical brochures