BO 3D Coating ENG 9122573 0605 -
1 Pages
Wagner 3D Pro Coating
Dynamic 3D coating without robots
Wagner movement technology for complicated parts
The coating of complicated parts such as e.g. the internal coating of cabinets requires the individual movement of independent guns. The Z axis with rotary drive makes this possible without the purchase of an expensive robot.
Each axis is a module
Benefits for the user:
■ cTt!
■ high surface coverage
■ little space required (short spray booth)
■ for simple and complex applications
■ integration in color change systems
■ process reliability proven by numerous references
The directions of motion can be combined in modules as required:
■ X-axis
for the coating of surfaces and edges synchronous with the conveyor
■ Y-axis
for height positioning
■ Z-axis
for moving in and out
■ R-axis of rotation
for the internal coating of corners, edges, rebates etc.
Technical Data

Speed

x'axis:

0.2 m/sec

Y-axis:

0.5 m/sec

Z-axis:

0.5 m/sec

R-axis of rotation:

i8o°/sec

->Angle of rotation

3400

Positioning accuracy

X-axis:

+/- 5 mm

Y-axis:

+/- 2 mm

Z-axis:

+/- 0.5 mm

R-axis of rotation:

+/- 0.10
J. Wagner GmbH Otto-Lilienthal-Str. 18 88677 Markdorf Telefon: +49 7544 505-0 Telefax: +49 7544 505-200
J. Wagner AG Industriestrae 22 CH-9450 Altstatten/SG Telefon: +41 71 7572211 Telefax: +41 71 7572222
www.wagner-systems.com
Printed in Germany • Subject to changes • GB • 9122 573 • 06/05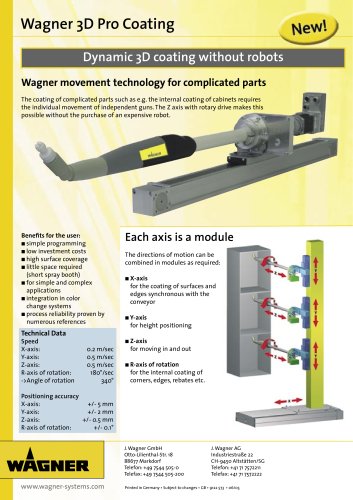 Text version
All WAGNER catalogues and technical brochures
Archived catalogues