System Saver -
17 Pages
SYSTEM SAVER
VELJAN
SYSTEM SAVER CONCEPT
Utilizes standard catalogued hydraulic components. Assembly
of a complete system on the pump, without pipe or manifold
block with bolt on valves.The evident saving of space and cost
is completed in addition by a best response of relief and
unloading valves,due to the very small oil volume compressed
between valves and pumps.
FEATURES
► Compactness
► Leak-free system
► Overall cost reduction
► Standard components
► A 'ready-to-install' product
► Pre-assembled integrated functions
READY TO INSTALL
Standard components in any package are pre-tested to
their full performance specifications.
REDUCED OVERALL INSTALLATION COSTS
Easy specification of required sub system along with quick
assembly and no charge for mounting hardware,combine to
make the "System Saver" very cost-effective.
DESIGN FLEXIBILITY
Allows you to combine any selection of the pressure
relief and unloading valves (with manual or electrical) with
any combination of single, double & triple high performance
vane pumps.
SINGLE PUMP SYSTEM SAVER MODEL CODE
VT6 * - *** - * - * * * - * *
NU - D - GOQ
Pump Model Code
VT6B, VT6C, VT6D.VT6E,
VT7QC,VT7B,VT7D/VT7DS,
VT7E/VT7ES
(For Model code & Installation dimensions
please refer pages 7-10)
NU, UO, UB, NV, VO, VB
NU - Unloader
UO - Unloader with Vent valve (normally open)
UB - Unloader with Vent valve (normally closed)
NV - Relief valve
VO - Relief valve with Vent valve (normally open)
VB - Relief valve with Vent valve (normally closed)
(For Model code & Installation dimensions please refer pages 31 -37)
1
Termination/Connection
1 - BSP threaded port
2 - NPTF threaded port
3 - Socket weld flange
Voltage/Frequency
W01 = 115 V-60 Hz AC
W02 = 230 V - 60 Hz AC
W06 = 115 V-50 Hz AC
W07 = 230 V - 50 Hz AC
GOR = 12 V DC
GOQ = 24 V DC
GOH = 48 V DC
Check valve
D - Unloading check valve
C - Check valve
N - None
Unloader with Check valve (NUD)
Relief valve (NV)
VR5V
Unloader valve (NU)
VR5U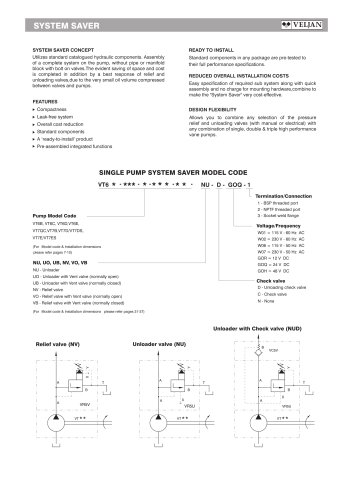 Text version
All Veljan Hydrair Limited catalogues and technical brochures
Archived catalogues
VELJAN HYDRAULIC PRODUCTS

11 Pages