Booth:
Value Plastics
Catalogues

News

Exhibitions
General Catalog -

73

/ 85 Pages
73
TUBESETTER
: Manual
Designed for rapid assembly of barb to tube connections, the Tubesetter assembly tool joins flexible tubing and Value PlasticsΒ barbed fitting, applying the force necessary to push the tube over the barb. No external power source is needed. Made almost entirely of acetal plastic, the device is easy to clean and suitable for operation in most environments. Consider the Manual Small Fitting Tubesetter assembly tool for prototype assembly or lower-volume manufacturing needs. >
PARTDESCRIPTION 930B1A Manual TUBESETTER >
Base 930JS >
*
Standard Jaw Set Due to the wide variety of tubing and connection options available, please contact our Sales dept. to arrange for an evaluation of your application before ordering. 930AS >
*
Standard Flip Top Anvil 920PS >
*
Standard Pin Set Assembly * The base manual TUBESETTERή unit requires a jaw set, anvil assembly and pin set assembly. An additional engineering fee may be required for a custom application. >
MANUAL TUBESETTER
- Easy to use - Excellent for volumes up to 1,000 assemblies per month
- Accommodates tubing from 3/32 to 3/8Ԕ OD
- Configurable for: Luers - Straights - Ys - Tees - Elbows
- Requires no electricity or pneumatic power
- Long-life acetal construction
OTHERCOMPONENTS 100 piece minimums, unless noted in red text >
Red Text = Special order items >
Օ Volume pricing may be available for quantities 5,000 and over >
Call for details! >
v.022a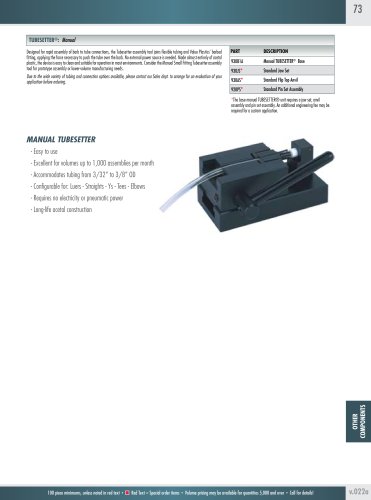 P. 68

C >HECK V >ALVESPG-69 C >LAMPSPG-69 I >NJECTION S >ITESPG-69 S >TOPCOCKSPG-69 S >PIKESPG-70 T >UBINGPG-70 D >ESIGNER K >ITSPG-71...

P. 69

OTHER COMPONENTS: Components 69 VPS5401068N NUMBERMATERIAL > VPM0031400N NUMBERMATERIAL VPS5401068NPolycarbonate with Silicone Disk VPM0031400NClear...

P. 70

OTHER COMPONENTS: OTHER COMPONENTS: Components Tubing IVPB1000062N number material VPB1000062N Polycarbonate Body with Polyethylene...

P. 71

OTHER COMPONENTS: Designer Kits 71 ASSORTED KIT NUMBERCONTENTS Assorted Kit-001Luers, tube-to-tube and threaded fittings Our Assorted Kit provides...

P. 72

72 OTHER COMPONENTS: TUBSETTEK® ASSEMBLY TOOLS Value Plastics' Tubesetter® assembly tools set the standard for effortless tube...

P. 74

B >ARB D >IMENSIONSPG-75 B >ARB P ERFORMANCEPG-76 P >ANEL M >OUNT I >NSTRUCTIONSPG-77 BPF S >ERIES P >ERFORMANCEPG-77 R >ESIN...

P. 75

TECHNICAL: Barb Dimensions 75 CLASSIC SERIES BARB SIZEBARBODBARBIDTUBE INTERNAL DIAMETERDEC.FRAC.METRIC > 500 SERIES BARB SIZEBARBODBARBIDTUBE...

P. 76

76 TECHNICAL: Barb Performance Performance of Barb to Tube Connection Tensile pull and burst tests were performed by an independent laboratory...

P. 77

77 TECHNICAL: BPF SERIES Properties & Performance and Panel Mount Instructions BPF Series Typical Physical Properties Maximum cycles_...

P. 78

78 TECHNICAL: Chemical Resistance of Resin CHEMICAL % TEMP C TEMP F ABS ACETAL PVDF NYLON MABS POLYCARBONATE POLYPROPYLENE...
Text version
All Value Plastics catalogues and technical brochures
Catalog

91 Pages