General Catalog -

70

/ 85 Pages
OTHER COMPONENTS: OTHER COMPONENTS:
Components Tubing
IVPB1000062N

number material

VPB1000062N Polycarbonate Body with Polyethylene Handle
POLYVINYL CHLORIDE (PVC) TUBING
75 Durometer
Our PVC tubing is a very cost effective product that can satisfy a broad array of end use applications. It is flexible in nature, optically clear, and easily sterilized.
Resin Grade & Technical Information:
This tubing is extruded from Unichem 7511 G-015 resin, which is in compliance with all US Food & Drug Administration regulations for food grade use under Title 21 CFR. It is also certified USP Class VI. It can be sterilized by gamma radiation or Ethylene Oxide (EtO) gas. This tubing is not autoclavable.
We recommend that you request free samples for testing in your particular applications.
Three Way Stopcock, (2) Female Luer Thread Style and Male Slip Luer
dimension (ID X OD X LGTH)

number

1/16" X 1/8" X 100'

PV00-1031C

1/16" X 1/8" X 1000'

PV00-1031M

3/32" X 3/16" X 100'

PV00-2047C

3/32" X 3/16" X 1000'

PV00-2047M

1/8" X 1/4" X 100'

PV00-3062C

1/8" X 1/4" X 1000'

PV00-3062M

5/32"X9/32"X 100'

PV00-4062C

5/32"X9/32"X 1000'

PV00-4062M

3/16" X 5/16" X 100'

PV00-5062C

3/16" X 5/16" X 1000'

PV00-5062M

1/4" X 3/8" X 100'

PV00-6062C

POLYURETHANE TUBING

80 Durometer

Our polyurethane tubing is extremely kink resistant. It is also highly resistant to abrasion and scuffing. It is widely accepted as a premium material for medical device use because of its flexible nature and easy sterilizability.

Resin Grade & Technical Information:

This tubing is extruded from Dow's compound Pellethane 2363-80AE, which has passed USP Class VI testing. It can be sterilized by gamma radiation or Ethylene Oxide (EtO) gas. Please do not autoclave this tubing, as it may alter the chemical nature of the resin.

dimension (ID X OD X LGTH)

number

1/16" X 1/8" X 100'

UR00-1031C

1/16" X 1/8" X 1000'

UR00-1031M

3/32" X 3/16" X 100'

UR00-2047C

3/32" X 3/16" X 1000'

UR00-2047M

1/8" X 1/4" X 100'

UR00-3062C

5/32"X9/32"X 100'

UR00-4062C

LOW DENSITY POLYETHYLENE TUBING

92 Durometer

Our polyethylene tubing has excellent mechanical and chemical resistance properties. However, please use caution if your application involves possible bending or kinking the tubing. It is a semi-rigid material and will be permanently deformed if kinked or bent too tight.

Resin Grade & Technical Information:

This tubing is extruded from DuPont 2020T, which is in compliance with all U.S. Food & Drug Administration regulations for food grade use under Title 21 CRF. It can be sterilized by gamma radiation or Ethylene Oxide (EtO) gas. Autoclaving is not recommended.

dimension (ID X OD X LGTH)

number

1/16" X 1/10" X 100'

LDPE01-1019C

1/16" X 1/10" X 1000'

LDPE01-1019M

1/16" X 1/8" X 100'

LDPE01-1031C

1/16" X 1/8" X 1000'

LDPE01-1031M

3/32" X 5/32" X 100'

LDPE01-2031C

3/32" X 5/32" X 1000'

LDPE01-2031M

1/8" X 3/16" X 100'

LDPE01-3031C

1/8" X 3/16" X 1000'

LDPE01-3031M

5/32"X 7/32"X100'

LDPE01-4031C

5/32"X 7/32"X1000'

LDPE01-4031M
IVPB1000099N

number material

VPB1000099N Polycarbonate Body with Polyethylene Handle
Four Way Stopcock, (2) Capped Female Luer Thread Style and Male Slip Luer
VPB1000110N
number material
VPB1000110N Polycarbonate Body with Polyethylene Handle
Four Way Stopcock, (2) Capped Female Luer Thread Style & Capped Male Luer Lock
IVPS5069700N

number material

VPS5069700N White Acrylic Spike with Clear LDPE Guard

Bag Spike with vented guard

-™

VPM1611401N

number material

VPM1611401N White Acrylic

Bag S p ik e

IT
v.022a
3325 South Timberline Road • Fort Collins, CO 80525 • USA TEL: 970-267-5200 FAX: 970-223-0953 TOLL FREE in USA: 888-404-5837 WWW.VALUEPLASTICS.COM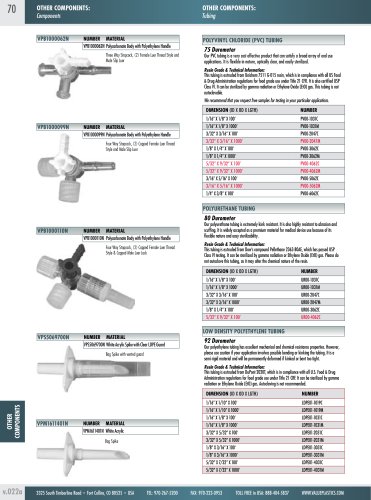 Text version
All Value Plastics catalogues and technical brochures
Catalog

91 Pages