Trico Product Catalogue -

7

/ 103 Pages
C2
Opto-Matic Constant Level Oilers
APPLICATIONS:
Opto-Matic oilers provide an inexpensive method to automatically maintain a constant level of oil in apump bearing housing, gear box, or other oil sump applications. Throughout processing industries, the
Opto-Matic oiler is the industry standard. Different reservoir capacities allow use in many applications.Stainless steel models provide long life in corrosive environments in the chemical, pulp and paper, andmining industries.
FEATURES:
ΕOne piece glass reservoir ensures proper constantlevel function. Compared to competitive
models, there is no possibility of air leakage that
would cause overfilling of the bearing housing.Adjustable level setting allows use inmany applications.ՕMultiple air vent slots provide for properfunctioning at all times.Large surge chamber helps prevent overflow of oil during machine start-up or shut-down.ՕSide and bottom connections forsimplified installation.
Standard 304 Stainless Steel 30003 ZincZinc/Chromate Plate 304 StainlessPassivated
Wire Guards
Wire guards are ordered separately and are customer installed.
SPECIFICATIONS
DescriptionModel No.StandardModel No.Stainless Steel Max. Operating Temp.Reservoir
Casting
Finish
Internal Parts
O-Ring 250F ContinuousOne-Piece Glass BottleZinc Plated SteelViton 3001230013
30016
30020-30223
30225
30230 2-1/2 oz. Guard4 oz. Guard
8 oz. Guard16 oz. Guard ڮ A A A A
Viton
is a registered trademark of Du Pont Dow Elastomers.
B B B B
SELECTION CHART- STANDARD
Capacity(NPT)* Connection Dimensions (in.) >
* B Min.B Max.C Min.C Max.Model No.A >
C* 3/4 / 43 30002
30003
30005
30010 2-1/2 oz.4 oz.8 oz.16 oz. >
C* C* 1/41/4
1/4
1/4 2-1/22-11/163-3/164-1/8 3-15/1655-15/166-13/16 4-1/4
5-3/46-11/167-9/16 11/329/329/329/32 9/16111 >
7/8 / 87 No. 30002 Standard No. 30003, 30005, and30010 Standard A A * Metric thread sizes available. Add Γ-M to part number for 1/4 BSPT connection port.
* Metric thread sizes available. Add ԓ-M to part number for 1/4 BSPT connection port.
SELECTION CHART - STAINLESS STEEL
B B Connection(NPT)* Dimensions (in.) >
C* * B Min.B Max.C Min.C Max.Model No. With Side &Bottom ConnectCapacityA 30213
30215
30220 4 oz.
8 oz.16 oz. 1/4
1/4
1/4 2-11/163-3/164-1/8 4-15/165-7/8
6-3/4 5-11/166-5/8
7-1/2 9/32
9/32
9/32 11
1 >
7/8 / 87 Connection Side and Bottom Stainless Steel * ԓC dimensions represent oil level range* ԓC dimensions represent oil level range size="-2">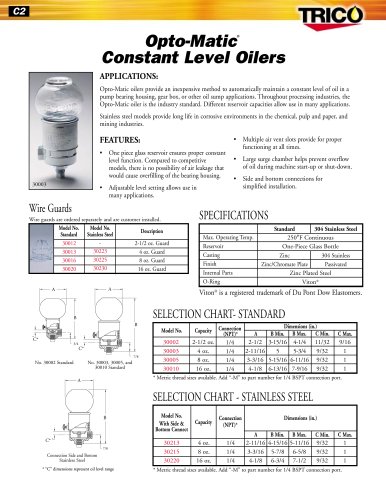 Text version
All Trico catalogues and technical brochures