trico catalog -

5

/ 120 Pages
B2
opto-Matic® constant level oilers
APPLICATIONS
Opto-Matic® Oilers provide an inexpensive method to automatically maintain a constant level of oil in a
pump bearing housing, gear box, or other oil sump applications. Throughout processing industries, the
Opto-Matic Oiler is the industry standard. Different reservoir capacities allow use in many applications.
Stainless steel models provide long life in corrosive environments in the chemical, pulp and paper, and
mining industries.
FeATureS
• One piece glass reservoir ensures proper constant
level function. Compared to competitive
models, there is no possibility of air leakage that
would cause overfilling of the bearing housing.
• Adjustable level setting allows use in many
applications
30003
WIre GuArdS
SPeCIFICATIONS
Wire guards are ordered separately and are customer installed.
Model No.
Standard
30012
30013
30016
30020
Model No.
Stainless Steel
30223
30225
30230
A
A
• Multiple air vent slots provide for proper
functioning at all times
• Large surge chamber helps prevent overflow
of oil during machine start-up or shut-down
• Side and bottom connections for
simplified installation
Description
2-1/2 oz. Guard
4 oz. Guard
8 oz. Guard
16 oz. Guard
A
A
Max. Operating Temp.
Reservoir
Casting
Finish
Internal Parts
O-Ring
Standard
304 Stainless Steel
250ºF Continuous
One-Piece Glass Bottle
Zinc
304 Stainless
Zinc/Chromate Plate
Passivated
Zinc Plated Steel
Viton®
Viton® is a registered trademark of Du Pont Dow Elastomers.
SeLeCTION ChArT - STANdArd
B
B
B
B
Model No.
C*
C*
/4
3/4
3
C*
C*
/8
7/8
7
No. 30003, 30005, and
30010 Standard
No. 30002 Standard
A
A
A
30002
30003
30005
30010
Dimensions (in.)
Connection
B Min. B Max. C Min.
A
(NPT)*
2-1/2 oz.
2-1/2 3-15/16 4-1/4 11/32
1/4
4 oz.
2-11/16
5
5-3/4
9/32
1/4
8 oz.
3-3/16 5-15/16 6-11/16 9/32
1/4
16 oz.
4-1/8 6-13/16 7-9/16 9/32
1/4
Capacity
C Max.
9/16
1
1
1
* Metric thread sizes available. Add "-M" to part number for 1/4 BSPT connection port.
SeLeCTION ChArT - STAINLeSS STeeL
B
B
B
C*
/4
3
Model No.
With Side &
Bottom Connect
Capacity
Connection
(NPT)*
30213
30215
30220
4 oz.
8 oz.
16 oz.
1/4
1/4
1/4
C*
C*
7
/8
7/8
Connection Side and Bottom Stainless Steel
* "C" dimensions represent oil level range
Dimensions (in.)
A
2-11/16
3-3/16
4-1/8
B Min.
4-15/16
5-7/8
6-3/4
B Max. C Min.
5-11/16 9/32
6-5/8
9/32
7-1/2
9/32
C Max.
1
1
1
* Metric thread sizes available. Add "-M" to part number for 1/4 BSPT connection port.
See Spectrum Opto-Matic Collars in the Storage, Handling & Identification section
for color coding options.
www.tricocorp.com
800.558.7008
www.predictinc.com
800.543.8786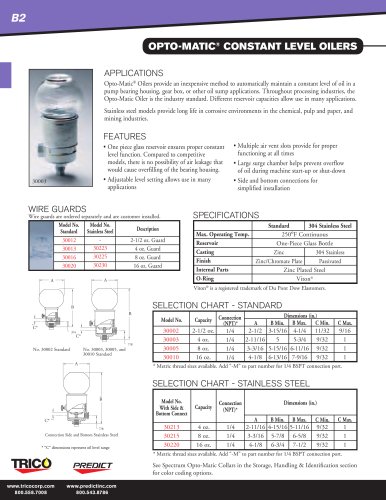 P. 1

total lubricationmanagement solutionsproduct catalogwww.tricocorp.com | 800.558.7008www.predictinc.com | 800.543.8786

P. 2

table of contentsIntroduction to Trico. . . . . . . . . . . . . . . . A1Constant Level Lubrication. . . . . . . . . . . B1Opto-Matic®Constant...

P. 3

A1total lubrication ManageMent solutionsTrico and Predict. Total Lubrication Management Solutions.Trico and Predict – the worldwide leaders in predictive...

P. 4

B1introduction to constant level lubricationConstant level oilers are designed to maintain a predetermined oil levelin a sump, which is necessary for proper...

P. 6

B3B1opto-Matic® constant level oilersflexible flinger discAPPLICATIONSOpto-Matic® Oilers provide a constant level of oil in a pumpbearing housing,...

P. 7

B4breather tubesBreather tubes are accessories used in conjunction withvented Opto-Matic® Oilers to help eliminate vacuumscreated by abnormally tight...

P. 8

B5lcl oilersAPPLICATIONSLCL large capacity oilers provide a constant level of oil in a pump bearing housing, gear box, or other oil sump applications.They...

P. 9

B6opto-Matic® closed systeM oilersAPPLICATIONSThe Opto-Matic® Closed System Oiler is designed for alltypes of equipment where a constant level...

P. 10

B7Watchdog® oilers318253182931804The Watchdog® closed system oiler is designed for bearinghousings, gear boxes, and other oil sump applications....
Text version
All Trico catalogues and technical brochures
PRODUCT CATALOG

113 Pages
Archived catalogues
Trico Product Catalogue

103 Pages