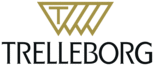 Booth:

Trelleborg Sealing Solutions
Group: TRELLEBORG

Hydraulic Seals - linear - Rod Seals (metric version) -

101

/ 170 Pages
Zurcon U-Cup RU2
■ U-Cup RU2
Description
Today U-Cups are used primarily as seals for piston rods in hydraulic cylinders. U-Cups in polyurethane are proven elements, due to their good mechanical properties, for standard cylinder construction, particularly for mobile hydraulics under rough operating conditions.
The U-Cup RU2 is a double lip seal in a compact design.
Advantages
- Good sealing effect at high and low pressures
- Good abrasion resistance, wear-resistant
- Unaffected by sudden loads
- Suitable for small grooves
- Simple installation.
Type RU2
The compact U-Cup type RU2 is designed for small grooves. It is thus particularly suitable for use in space-saving designs. The compact form provides a high sealing effect even with low system pressures.
The U-Cup has two sealing lips in the dynamic sealing zone. The compact form with two sealing lips provides an improvement in the leakage behaviour at low system pressures. Due to the incorporation of an oil trap between the two sealing lips, friction at pressures above approx. 10 MPa is reduced. Furthermore, the second sealing lip prevents the entry of dirt from the atmosphere side.
Technical Data
Operating pressure: Max. 40 MPa
Speed: Up to 0.5 m/s
Temperature: Use in mineral oils:
-35°Cto + 110°C
Media: Mineral oil-based hydraulic
fluids.
Important Note:
The above data are maximum values and cannot be used at the same time. e.g. the maximum operating speed depends on material type, pressure, temperature and gap value. Temperature range also dependent on medium.
Material
Standard Zurcon®: Z20
Special Polyurethane: 93 Shore A
Colour: turquoise
Seal clearance
Guide values for the radial clearance between rod and gland in relation to the operating pressure and rod diameter can be found in Table XXIII.
Figure 37 U-Cup, type RU2
Method of Operation
The sealing effect of the U-Cup comes from the intrinsic preload of the seal body and from the compression of the seal lips during installation. In operating condition, the radial mechanical contact forces are superimposed by the system pressure.
At low stroke speeds, U-Cups can tend to have a stick-slip effect due to an inadequate lubrication film formation in the seal clearance and to their material properties. This behaviour corresponds to the Stribeck curve described in the relevant literature.
MM
Latest information available atwww.tss.trelleborg.com Edition April 2007
TRELLEBORG
SEALING SOLUTIONS
99
Text version
All Trelleborg Sealing Solutions catalogues and technical brochures