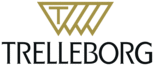 Booth:

Trelleborg Sealing Solutions
Group: TRELLEBORG

Hydraulic Seals - linear - Rod Seals (metric version) -

101

/ 262 Pages
POLYPAC® - Veepac CH/G5
Veepac CH/G5 Set
Description
Advantages
Veepac is a set of fabric reinforced Chevron
rings comprising of a support ring (1), sealing
rings (2) and a pressure energising ring (3).
In the packing set the energising axial force
is transferred between the individual packing rings so
that each ring is pressed into positive contact with the
rod surface. Additional to the standard material special
material grades are available for a large variety of working
conditions. The gure shows the Veepac design.
- Very robust seal
- Non sensitive
- Adjustable
- Easy replacement in the eld with split rings
- Extensive range of sizes (see symmetrical seals)
- Requires non super mating surfaces
Application Examples
- Mining equipment (with approvals)
1
- Excavators -Steel mills
- Water hydraulic
2
2a
2
2a
2
3
- Presses
- Ship hydraulics
- Stabilizer cylinders on cranes
- Continous casting equipment
Technical Data
Operating conditions
Figure 32
1)
2)
Veepac design
"U" or base rings in standard version manufactured
in reinforced fabric comprising of layers of cotton
impregnated with nitrile rubber compounded to
resist extrusion. This component supports the Vee
Rings for effective performances.
Vee Rings are made of reinforced cotton fabric
and nitrile elastomer, in standard version, to
give good resilience, sealing efciency and extrusion
resistance.
Due to their specic design, Vee Rings are sensitive
to uid pressure variations, enabling them to deect
throughout their radial section, increase the seal
loading and effectiveness in proportion to the
pressures applied.
Pressure:
Up to 40 MPa
Velocity:
Up to 0.5 m/s
Temperature: -30 °C to +200 °C depending on material
Media:
Hydraulic uids
Mineral oil, water glycol, water emulsions
Important Note:
The above data are maximum values and cannot
be used at the same time. e.g. the maximum
operating speed depends on material type,
pressure, temperature and gap value.
Temperature range also dependent on medium.
2a) Vee Rings are made of pure elastomer for high
sealing efcienty.
3)
Energiser or spreader rings are manufactured in
acetal resin or PTFE. The function of this component
is to ensure a uniform pressure distribution.
Latest information available at www.tss.trelleborg.com
Edition January 2011
81
Text version
All Trelleborg Sealing Solutions catalogues and technical brochures