LC-200 / 220 / 230 -

2

/ 4 Pages
Flex-Spin Drive created new
J
Easy-Mount Rotors
J
Flex-Spin Drive
Tomy offers a wide selection of Easy-
Mount Rotors for the Flexpin Bench-
top centrifuges. These rotors install
and remove with the turn of a knob
and the selection covers most of the
commonly used centrifuge labware.
The Flex-Spin Drive features a flexible
motor shaft that equalizes minor imbal-
ances without damaging the centrifuge
or triggering the imbalance protection
system. This allows excellent tolerance
for minor difference in sample volumes.
JSuperior Imbalance
Protection
Tomy has developed a unique concept in imbalance
protection based on the kinetic energy generated by
the entire rotational system including the motor, ro-
tor, buckets and adapters. This system, with its expan-
ded inputs, is capable of detecting a severe imbalance
within a few seconds after the centrifuge is started.
J
Higher Speeds
for Microplates
The TS-38LB rotor and
B438-96 buckets spin four
96-well microplates at 4,200
rpm generating 3,100G -
sufficient for microplate
based ethanol extractions
of DNA.
Microplate
JHi
An
gh-Speed Fixed
9000
rpm
0
3010G
Angle Rotor
The TLA-11 Fixed Angle
Rotor is a high-speed ro-
tor that takes up to six 35
to 50 ml conical centrifuge tubes, and
generates up to 9,600G. The maximum
speeds will depend on the tube manu-
facturers' specifications.
J
Flat Tabletop
9600
No Chamber Gasket
on the tabletop pro-
vides easy sample load
I Rotor Specifications
• For swing-out rotors only must be balanced by eye. Fixed angle rotor must be balanced properly.
•All rotors, buckets, tube racks and adapters are sold separately. Rotors are shown on below with buckets, tube racks and adapters for example only.
Tube Rack
TS-4LB
TS-7LB
TS-33LB
S4096-02
7115-08
7015-08
7050-02
7015-06
7150-01
7050-01
*2 BH50-01
C3
*2 BH10-04
cm
SC-2
7215-06
B407
B433
Capacity
(ml X places)
MicroplateX4 * 1
Adapter Tube Material
Maximum Speed Relative Centrifugal
(rpm) Force (G)
Rotor Compatibility
LC-200 LC-220 LC-230
0705-FA10P
0705-1 OP
3350-TC01 P
3350-G01P
3315-TC04P
3315-G07P
3314-04P
3305-07P
3307-07P
Bucket Cap Kil B433 »7 I
15X32
15X32
15X16
50X8
15X8
15X24
15X16
50X4
15X4
50X4
15X4
50X4
10X16
8X4
15X24
FACS Tube
5X40
250X4
225X4
175X4
50X4
50X4
15X16
15X28
14X16
IW9330-050
A1500-04
IW9330-050
A1500-04
IW9330-050
A1500-04
352090(F)
PP(C-F)-PET(C)-G
PS(F)
PP(C-F) -PET(C)
PS(F)
PP(C-F) -PET(C)
PP(C-F) -PET(C)
PS(F)
PP(C-F)
PET(C)
PP(C-F) -PET(C)
PC-PPCO(N)
PC-PPCO(N)
PP(C-F) -PET(C)
PS(F)
PP(F)
PS(F)
PET
PC-PPCO-HDPE(N)
PP(F)
PP(C-F)
PET(C)
PP(C-F)
PET(C)
PS(F)
PET
PP(F)
PS(F)
PET
PET
*3 4
*34
*4 4
*3 4
*3 4
*4 4
*3 4
800
500
000
500
100
500
600
100
000
300
000
000
000
500
600
600
000
100
800
600
800
800
300
800
800
300
100
800
000
700
700
600
510
2,380
1,750
2,190
1,720
2,150
2,320
1,720
4,670
3,450
4,670
2,810
2,950
2,140
420
2,430
1,690
1,670
1,360
1,170
*3 4,350
*3 4,300
*4 3,450
*3 4,1 50
*3 4,300
*4 3,450
1,790
*3 4,1 50
2,990
1,360
1,200
1,200
O
X
o
o
X
o
o
o
o
o
o
o
Various
Rotors
TS-4LB
TS-7LB
TS-33LB
TS-38LB
TS-39LB
TS-40LB
TLA-11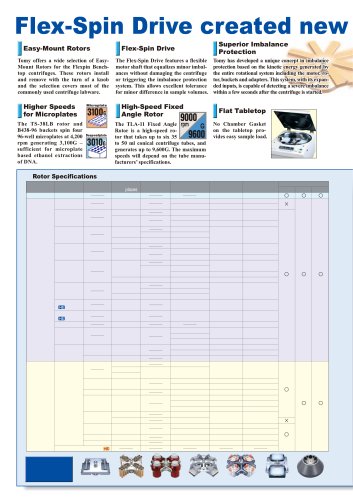 Text version
All TOMY DIGITAL BIOLOGY catalogues and technical brochures
Archived catalogues