Booth:

Terasaki Electric Ltd
Group: Terasaki Electric
Terasaki - Air Circuit Breaker -
70 Pages
®TERASAKI Innovators in Protection Technology
TERASAKI OVERSEAS NETWORK
Teml&wer
Air Circuit Breaker Instruction Manual
TERASAKI (EUROPE) LTD.
80 Beardmore Way, Clydebank Industrial Estate, Clydebank, Glasgow G81 4HT SCOTLAND (UK) Telephone: 44-141 941-1940 / Fax: 44-141-952-9246 / E-mail: marketing@terasaki.co.uk www.terasaki.com
TERASAKI ITALIA s.r.l.
Via Campania 4/6, 20090 Segrate, Milano, ITALY
Telephone: 39-02-2137574 / Fax: 39-02-26922931 / E-mail: terasaki@terasaki.it www.terasaki.it
TERASAKI ESPAA, S.A.U.
Roma, s/n 08400 Granollers, Barcelona, SPAIN
Telephone: 34-93-879-60-50 / Fax: 34-93-870-39-05 / E-mail: terasaki@terasaki.es www.terasaki.es
TERASAKI SKANDINAVISKA AB
Frasarvagan 32, 142 50 Skogas, SWEDEN
Telephone: 468-556-28230 / Fax: 468-556-28239 / E-mail: info@terasaki.se www.terasaki.se
TERASAKI CIRCUIT BREAKERS (S) PTE. LTD.
9 Toh Guan Road East // 03-01 Alliance Building, SINGAPORE 608604 Telephone: 65-6744-9752 / Fax: 65-6748-7592 / E-mail: tecs@pacific.net.sg
TERASAKI ELECTRIC (M) SDN. BHD.
Lot 3, Jalan 16/13D, 40000 Shah Alam, Selangor Darul Ehsan, MALAYSIA Telephone: 60-3-5549-3820/ Fax: 60-3-5549-3960 / E-mail: terasaki@terasaki.com.my
TERASAKI DO BRASIL LTDA
Rua Cordovil, 259-Parada De Lucas, 21250-450 Rio De Janeiro-R.J., BRAZIL Telephone: 55-21-3301-9898 / Fax: 55-21-3301-9861 / E-mail: terasaki@terasaki.com.br
TERASAKI ELECTRIC (CHINA) LIMITED
72 Pacific Industrial Park, Xingtang Zengcheng, Guangzhou 511340, CHINA Telephone: 86-20-8270-8556 / Fax: 86-20-8270-8586 / E-mail: terasaki@public.guangzhou.gd.cn
@) TERASAKI ELECTRIC CO., LTD.
Head Office: 7-2-10 Hannancho, Abenoku, Osaka, JAPAN Circuit Breaker Division: 7-2-10 Kamihigashi, Hiranoku, Osaka, JAPAN Telephone: 81-6-6791-9323 / Fax: 81-6-6791-9274 / E-mail: int_sales@kiki.terasaki.co.jp www.terasaki.co.jp
July 2004 Ref No. I04-M55EAI
Ratings and specifications in this manual may be subject to change without notice.
Non-Automatic andAGR-11 protection relay models
04-M55EA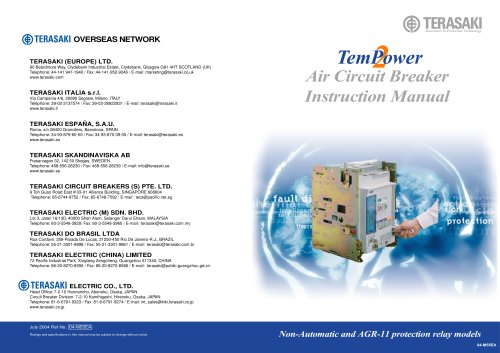 P. 2

TABLE OF CONTENTS 5-3-3. S characteristic for generator protection35 1. SAFETY NOTICES1 5-4. Operation Indication and Indication Resetting Procedure37...

P. 3

1. SAFETY NOTICES Thank you for purchasing the TERASAKI AR-series Air Circuit Breaker (TemPower2).This chapter contains important safety information.Be...

P. 4

Operation Precautions (continued) CAUTION Repeated open/close operation by the motor charging mechanism without pause should not exceed 15 times. If repeatedcontinuous...

P. 5

2. RECEIVING AND HANDLING Upon receipt of your ACB, check the following. If you have any question or problem, contact us at the indicated on the backcover...

P. 6

2-1-2. Transporting the breaker body Use an optional lifter or lifting plate to transfer the breaker body. When transporting the breaker body on a lifter,...
Text version
All Terasaki Electric Ltd catalogues and technical brochures
Archived catalogues
TemDin Miniature Circuit Breaker

107 Pages

Breaking Contacts Brochure

8 Pages