Booth:

Terasaki Electric Ltd
Group: Terasaki Electric
Terasaki - Air Circuit Breaker -
70 Pages
2. RECEIVING AND HANDLING
Upon receipt of your ACB, check the following. If you have any question or problem, contact us at the indicated on the backcover of this manual. Check that the ACB received is as ordered and that the accessories are as specified. Check that the ACB is not damaged during shipment. >
2-1. Transportation Precautions
DANGER
Never stand under the ACB that has been lifted or suspended by a lifter or lifting attachments. If the ACB body isaccidentally dropped, its weight may cause serious injury. >
2-1-1. Transporting the ACB
Before transporting the ACB, make sure the breaker body is in the CONN. position. If the ACB has breaker fixing bolts, makesure the breaker body is secured to the draw-out cradle with the fixing bolts. When lifting the ACB, hold it using lifting attachments or wire ropes through the lifting holes. Take care that the positionswitches, control circuit terminals, auxiliary switches, arc gas barrier and control terminal block cover which are shown in
figure 1 are not damaged by the lifting rope. Lift the ACB carefully and gently. For transportation, place the ACB on a palletand carry slowly and carefully. Avoid shock and vibration to the ACB during transportation. Do not lay the ACB during transportation. When transporting the ACB over great distances, crate it for protection against shock and vibration and secure the cratepackage with wood or ropes. When transporting the ACB while it is installed in a switchboard, you should fix the breaker body in the draw-out cradle withthe breaker fixing bolts (optional). Lower the ACB onto a flat, level surface. Position switchesControl circuit terminals A uxiliar y switchesArc gas barrierControl terminal block cover Breaker fixing boltBreaker bodyDraw-out cradleLifting hole (20mm)Lifting attachment Front viewRear viewFig. 1 Transporting the ACB 3 >
KRB-5237d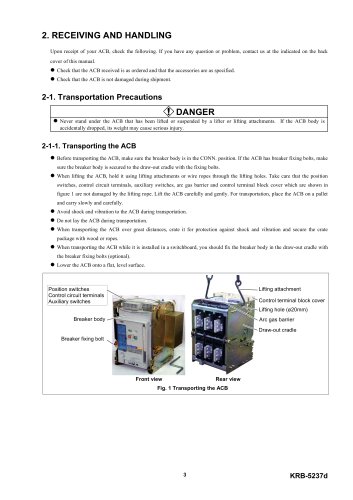 P. 1

®TERASAKI Innovators in Protection Technology TERASAKI OVERSEAS NETWORK Teml&wer Air Circuit Breaker Instruction Manual TERASAKI...

P. 2

TABLE OF CONTENTS 5-3-3. S characteristic for generator protection35 1. SAFETY NOTICES1 5-4. Operation Indication and Indication Resetting Procedure37...

P. 3

1. SAFETY NOTICES Thank you for purchasing the TERASAKI AR-series Air Circuit Breaker (TemPower2).This chapter contains important safety information.Be...

P. 4

Operation Precautions (continued) CAUTION Repeated open/close operation by the motor charging mechanism without pause should not exceed 15 times. If repeatedcontinuous...

P. 6

2-1-2. Transporting the breaker body Use an optional lifter or lifting plate to transfer the breaker body. When transporting the breaker body on a lifter,...

P. 7

2-3. Installation Precautions _A CAUTION_ • Electrical work must be done by competent persons. • Do not place the ACB in...

P. 8

Use the receptacles shown in Table 2 to make connections with plug-in tab terminals (#187) of position switches, controlcircuit terminals, and auxiliary...

P. 9

3. GENERAL 3-1. Types and Descriptions TemPower2 is available in types shown in Tables 3 and 4. Table 3 Standard types Frame size (A)...

P. 10

Table 4 High-performance types Frame size (A) 1250 1600 2000 1600 2000 2500 3200 Type AR212H AR216H AR220H AR316H...
Text version
All Terasaki Electric Ltd catalogues and technical brochures
Archived catalogues
TemDin Miniature Circuit Breaker

107 Pages

Breaking Contacts Brochure

8 Pages