Terasaki - Air Circuit Breaker -

40

/ 70 Pages
5-5. OCR Function Check
_A CAUTION_
• < icr fimelaai L-licok aiu: 'Oiling ehaiiee- "in.: he iieiloimed hi coiii|Vlont persons.
• Use a small fkitblade sci\™ iii i\er \i illi a !uri|iie i>f"iinl nam ihaii (). i Vni or a ftniv hi' mil imm than I). i N when adjusting llie senilis Miilelies luilaii slcp snireln.. in- .lide mi i idles j. An e\e,:ssii e linque nr ftiree nun eausc a ma i function.
• Alter eii[T]|ile:ii>:. W'ocr ie.1.. he sine h> ielu::l se;liil;j v.irehes li> I he niieiin;! yn-ihial-. i ailuve :u do mi illai eau~e a
The following function Check i. applicable In the OCR types that require control power. To test other types of OCR, use type ANU-I OCR checker (optional). See Fig. 39 and Tables 24 and 25 for how ttest the OCR.
TEST MODE select «'/lq , test reset

□ "-[ Zl □ C D ]

Fig. 39 Test buttons

push to hi trip № trip
Table 24 Testing instructions
Stop

Lonq time delay trip. Pretrip alarm

S-n........t : t .-i.-1 I- :). !ns';nlaic漡.s !■!:>

OCR only

OCR + ACB

OCR only

Open [Turn OFF)

2

Breaker body

Mtivti to BOf'LiVfil) ■!" ;;■:>:.

e control power).

i Keep open OFF). | Close

(Turn ON). I eepoi ■ ■..

down until ACB trips

Do not press.

»--

check that OCR does not operate and close ACB. '1

NON TRIP button

down until OCR

Do not press.

Press and hold down until OCR

""",",,

RESET button

---■

OCR provides

OCR provides

OCR provides ■2

OCR provides

OCR provides

OCR input signal value

AGR-11L [fcrl"5, AGR-11S Vcii-lb

[fell - 25

s5

s. 31. S3?37. M) ando

m to rKUIti with IKs
Table 25 Protective functions that can be checked and OCR setting changes to be done
Type ol OCR

Setting tor test

|/,al: NON. [ili 14 or more. |HOT/COLO|: COLD

iU. M: 8 or more

AGI'i 11. .Afi:i ! IR. AGI? IIS

|J"|: NO,\. i-.O-tv ;.."|: OFF

|INST(MCR|: INST

AGR-11L.AGR-11 R. AGR-1 IS

[INSTMCR]: MCR

p,."1p",™

['»

NON, |/,o|: NON. [1,1: 1-1 er iT-ore. MOT.'COLDl: COLD

,| o: m!.-.: [■■.]: SciiT.ore

AGR-1 IS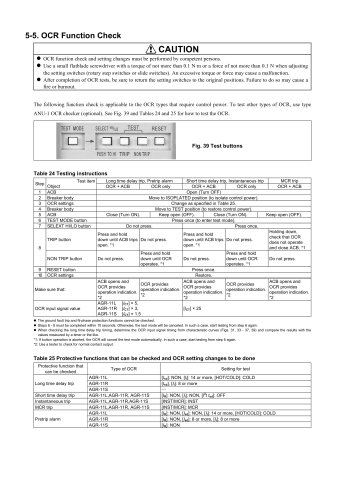 Text version
All Terasaki Electric Ltd catalogues and technical brochures
Archived catalogues
TemDin Miniature Circuit Breaker

107 Pages

Breaking Contacts Brochure

8 Pages