TELE-Main catalogue 2011/ 2012 -
130 Pages
No. Art. 091002
MAIN CATALOGUE
2011/2012
Technik braucht Kontrolle: A great deal of research and development has
been undertaken at TELE and it benefits further from its production base
in Austria and a strong team that brings its products to the market. The
company grew with time relays and automation components and the focus
on monitoring technology still characterizes the company today. As a pioneer
and trendsetter, it is able to deliver intelligent solutions for monitoring plants,
factories, buildings and machines and keeping them running.
TELE produces up-to-the-minute monitoring and control equipment that
satisfies international standards for worldwide deployment at the highest
levels of quality – from a passion and out of professionalism.
Established in 1963 as a family owned company, the headquarters and
production base in Vienna has generated branches in Germany and Great
Britain and a dense network of more than 60 dealers all over the world. Longstanding
customers from all areas of industry and fresh ideas for difficult
tasks have made us what we are today – a reliable and flexible partner.
Here, the striking green design is the external expression of internal values –
quality and innovation constitute the basis for our many years of success and
our orientation towards the future.
TELE • Vorarlberger Allee 38 • 1230 Vienna • Austria
Tel. +43 (0)1 614 74 - 0 • Fax +43 (0)1 614 74 - 100
www.tele-online.com
TELE - Main Catalogue - 2011 / 2012
1
2
3
4 5
6
7
8
9
10
11
12
13
14
15
16
17
18
20 19
21
22
23 24
25
26
27
28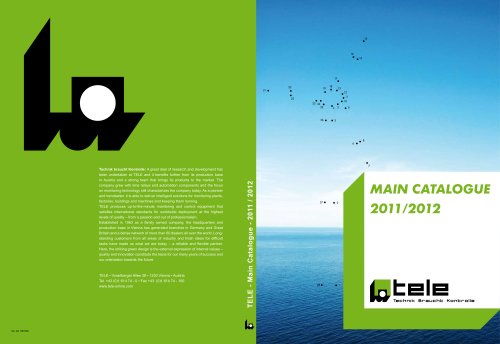 P. 2

www.tele-online.comChristoph HaaseTable of ContentUS - About TELE Page 4News - Highlights from Tele Page 6TELE offers...1. Sensing & Monitoring relays...

P. 3

Christian Mari, Head of ProcurementDieter Dollansky, SMD AssemblyAranka Copor, AssemblyBettina Putz, Customer ServiceOUTLOOKERFAHRUNGUSSTANDARDSGIVEANDTAKETELE...

P. 4

www.tele-online.comHighlights from TELELoad monitors "The motor as sensor"Monitoring motors' efficiency or effective power makes it possible...

P. 5

www.tele-online.comPageMonitoring Relays Introduction 10Selection matrix Quick, explicit and time-saving to the right product. 12Function overview Explanations...

P. 6

10 11coolZoomThe components mounted in a switchingcabinet lead in total to a substantial heatdevelopment that has a negative impacton the lifecycle of...
Text version
All Tele Haase Steuergeräte catalogues and technical brochures
Archived catalogues
TELE Catalogue

208 Pages