Booth:
TECSYSTEM
T154 -
2 Pages
T154
CE
Temperature
monitoring unit for
Controllo
termico di
Electronic microprocessor
based unit designed for
the thermal protection of
MV-dry type transformers.
MV dry type
transformers. The unit provides the fol-
trasformatori di MT
incapsulati
in resina e a secco. Le sue prestazioni permettono di:
lowing performances:
thermal overload
protection
- working temperature conditioning, with the
appropriate Fan Cooling System
- ambient room temperature control
Options:
T154-Trop (electronic part protection treatment)
T154-Ni 120/100 input from RTD Ni 120/100
T154-4 separate alarm setting for each channel
Universal power supply:
with input from 24 to 240 Vac-dc
Un unico componente
elettronico a microprocessore idoneo a proteggere
i trasformatori elettrici MT
a secco.
- Proteggere la macchina da sovraccarichi termici.
- Condizionare la temperatura di funzionamento con
opportuna ventilazione forzata.
- Controllare la temperatura ambiente in cui la macchina lavora.
Opzioni:
T154-Trop schede elettroniche protette (tropicalizzazione)
T154-Ni 120/100 ingresso da RTD Ni100 e Ni120
T154-4 set degli allarmi separato per ogni singolo
ingresso
Alimentazione universale:
da 24 a 240 Vca-cc
Other versions / Versioni particolari
ST154 + ST CONV. 04/A: temperature monitor system
with wiring cable reduction (2 wires Pt100 connection).
ST154 + ST CONV. 04/A: sistema di controllo
della temperatura a cablaggio ridotto (2 fili Pt100).
CONVST 4/A DIN
CONVST 4/A SCS
NT539: three temperature monitor units (T154) in only one unit.
NT539: tre unità di controllo (T154) in una.
T152: 2/3 Pt100 inputs for monophase transformers
T152: 2/3 ingressi Pt100 per trasformatori monofase
6
www.tecsystem.it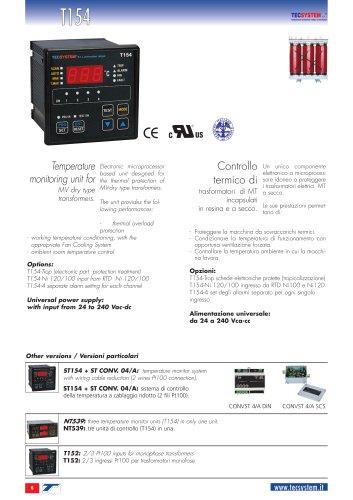 P. 2

T154TECHNICAL SPECIFICATIONSSPECIFICHE TECNICHEPOWER SUPPLYRated values: 24-240 Vac-dcVdc with reversible polaritiesALIMENTAZIONEValori nominali: 24-240...
Text version
All TECSYSTEM catalogues and technical brochures