Booth:
TACMINA CORPORATION
Smoothflow Pump TPL Series -
14 Pages
TACMINA GLOBAL NETWORK
By having the technical tie-up companies in Germany and
selling offices in 18 countries, we offer the services of
"Takumi" (or Skillful Master) to the world.
Netherlands
China
Hong kong
Korea
U.K.
Germany
TACMINA
CORPORATION
(Japan)
Spain
U.S.A
Taiwan
Philippines
Indonesia
India
Saudi Arabia
Thailand
Malaysia
Singapore
Distributor
Technical partner
2-2-14 Awajimachi, Chuo-ku, Osaka 541-0047 Japan
Tel. +81(0)6-6208-3974 Fax. +81(0)6-6208-3978
U R L http: //www.tacmina.com
E-mail trade@tacmina.com
Australia
New Zealand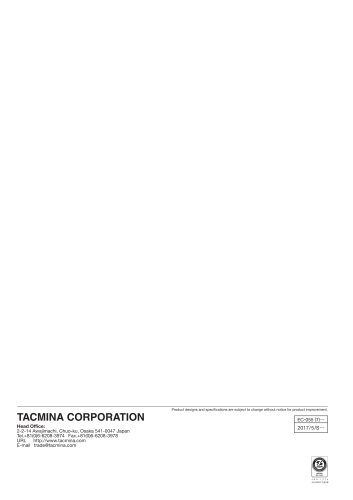 P. 7

"TACMINA's unique design has attainedunprecedented compactness without being entrenchedby the conventional concept.""The TPL is so compact...

P. 8

Modular body withside-opening systemchanges maintenance.[Easy Maintenance]

P. 9

"How to reduce users' maintenance effort.The answer was the modular pumpand side-opening head component.""The TPL has already made actual...

P. 10

[Potentiality]Flexibly responds to applications withstrict requirements, such as fine film coating andelectronic component production stages.An excellently...

P. 11

We are professionals ofmetering pumps and liquid control.TACMINA specializes in the manufacture of chemicalpumps based on the core technology of diaphragm.Since...

P. 13

Model CodeaDrive box typePlunger diameter1 : 200 · 400W Motor2 : 1,500W Motor008 : 8mm014 : 14mm018 : 18mm028 : 28mm032 : 32mm040 : 40mm056 : 56mm080...

P. 14

Product designs and specifications are subject to change without notice for product improvement.EC-034 (8) 05Head Office:2-2-14 Awajimachi, Chuo-ku, Osaka...
Text version
All TACMINA CORPORATION catalogues and technical brochures