SKF Air-driven Hydraulic Pumps and Oil Injectors, THAP E series -
2 Pages
30, 150, 300 and 400 MPa (4 350, 21 750, 43 500 and 58 000 psi)
SKF Air-driven Hydraulic Pumps and Oil Injectors, THAP E series
The THAP E air-driven hydraulic pumps and oil injectors are available in four different
pressure versions. They can be used for mounting OK Couplings, large pressure joints
such as bearings, flywheels, couplings and railway wheels. The THAP E unit consists
of a hydraulic pump or high pressure oil injector, driven by an air motor.
The units are supplied in a sturdy case including oil suction and return
hoses with quick connect couplings. The units can also be supplied in
complete sets, consisting of a THAP E and such accessories as a pressure
gauge, high pressure pipe or pressure hose.
• Time savings compared to hand operated pumps and oil injectors
• Portable
• Continuous supply of oil
• Sturdy storage boxes
• Low, medium and high pressure units
Applications
• SKF OK Couplings
• Mounting bearings
• Mounting ship propellers, rudder pintles, railway wheels and
other similar applications
THAP ../SET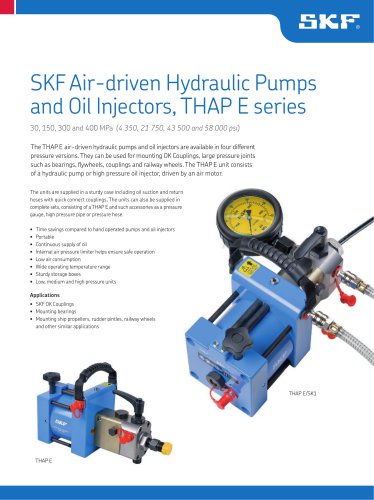 Text version
All SKF Maintenance and Lubrication Products catalogues and technical brochures