BC80 system catalog -

26

/ 28 Pages
Spare Parts & Upgrades
Type
Order No.
BCM8001
BCM8001 Line Card for BC8002 Advanced Control Unit
The BCM8001 is the line card connecting BDS field devices
i Each BCM8001 can connect 4 loops; each loop can connect up to
127 devices.
i Overload protection: recovers to normal status when the cause of
overload disappears.
i B-Bus address is set with a DIP-switch on the board.
Number of loops
Number of addresses
Max. load factor
Wiring Capacity
Max. distance per line
Resistor per line
Capacitor per line
Protection
Connectable field devices
Operating voltage
Quiescent current
Data sheet
127 (on one loop)
150 (for each loop)
RVS1.0... RVS1.5
1000 m
«300Í2
£300 nF
Short protection
Over voltage protection
BDS Series
Modulated 16... 32 VDC
Full load: 200 mA
No Load: 110 mA
A5Q00016410A
3-12
© Siemens Building Technologies Group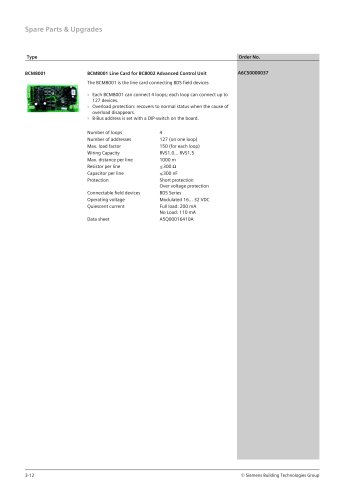 Text version
All SIEMENS Building Technologies catalogues and technical brochures
Archived catalogues
Cerberus PRO product catalog

253 Pages