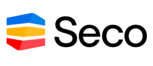 Booth:

SECO TOOLS
Group: Seco

SECO TOOLS - Catalog "Seco selection 2006" -
259 Pages
Threading - Cutting data
SECQl
Number of passes and infeed depths
External/Internal Whitworth threads
Lead TPI

4

4.5

5

6

7

8

9

10

11

12

14

16

18

19

20

26

28

— ■ —;—

Tot. inf. uGpth (mm)

4,29

3,82

3,44

2,90

2,50

2,17

1,93

1,76

1,58

1,45

1,20

1,13

1,01

0,96

0,92

0,72

0,69

Pass 1 (mm)

0,49

0,46

0,45

0,38

0,37

0,32

0,30

0,29

0,28

0,28

0,24

0,24

0,23

0,22

0,21

0,19

0,18

O

L

0,46

0,43

0,43

0,36

0,35

0,30

0,28

0,27

0,26

0,26

0,22

0,22

0,22

0,22

0,21

0,18

0,17

Q

0

0,38

0,38

0,38

0,30

0,29

0,24

0,23

0,22

0,22

0,22

0,18

0,19

0,19

0,18

0,17

0,15

0,14

A

0,36

0,33

0,32

0,26

0,25

0,21

0,20

0,19

0,19

0,18

0,15

0,16

0,16

0,14

0,14

0,12

0,12

c

0

0,34

0,29

0,28

0,22

0,22

0,19

0,18

0,17

0,16

0,16

0,13

0,13

0,13

0,12

0,11

0,08

0,08

c

D

0,31

0,25

0,25

0,21

0,19

0,17

0,15

0,15

0,14

0,14

0,11

0,11

0,08

0,08

0,08


 

7

0,29

0,24

0,22

0,19

0,18

0,15

0,14

0,14

0,13

0,13

0,09

0,08


 

 

8

0,27

0,22

0,20

0,17

0,16

0,14

0,13

0,13

0,12

0,08

0,08

 

 

9

0,24

0,20

0,19

0,16

0,15

0,13

0,12

0,12

0,08


 

 

10

0,22

0,18

0,18

0,15

0,14

0,12

0,12

0,08

 

 

11

0,20

0,17

0,17

0,14

0,12

0,12

0,08

 

 

12

0,19

0,16

0,15

0,14

0,08

0,08

 

 

13

0,17

0,15

0,12

0,12


 

 

14

0,15

0,14

0,10

0,10


 

15

0,12

0,12


 

 

16

0,10

0,10


 
External UN threads
Lead TPI

4

4.5

5

6

7

8

9

10

11

12

13

14

16

18

20

24

28

32

Tot. inf. depth (mm)

4,07

3,62

3,29

2,71

2,33

2,08

1,84

1,66

1,52

1,39

1,29

1,19

1,05

0,94

0,84

0,70

0,60

0,53

Pass 1 (mm)

0,47

0,45

0,43

0,36

0,35

0,30

0,28

0,27

0,27

0,27

0,25

0,23

0,22

0,23

0,20

0,19

0,17

0,17

2

0,44

0,41

0,40

0,34

0,33

0,28

0,26

0,26

0,25

0,26

0,24

0,22

0,21

0,21

0,19

0,17

0,15

0,15

3

0,40

0,39

0,36

0,27

0,26

0,25

0,21

0,20

0,20

0,20

0,18

0,17

0,16

0,16

0,15

0,14

0,11

0,13

4

0,36

0,31

0,31

0,23

0,22

0,21

0,20

0,17

0,19

0,18

0,17

0,15

0,14

0,14

0,12

0,12

0,09

0,08

5

0,32

0,26

0,26

0,22

0,21

0,18

0,17

0,16

0,16

0,15

0,14

0,13

0,13

0,12

0,10

0,08

0,08

 

6

0,27

0,23

0,23

0,20

0,19

0,16

0,15

0,15

0,14

0,13

0,12

0,11

0,11

0,08

0,08


 
 

7

0,25

0,21

0,20

0,18

0,17

0,14

0,14

0,14

0,12

0,12

0,11

0,10

0,08


 

 

8

0,23

0,20

0,19

0,16

0,15

0,13

0,12

0,12

0,11

0,08

0,08

0,08

 

 

9

0,22

0,18

0,19

0,15

0,14

0,12

0,12

0,11

0,08


 

 

10

0,21

0,17

0,18

0,14

0,12

0,12

0,11

0,08

 

 

11

0,19

0,16

0,17

0,13

0,11

0,11

0,08

 

 

12

0,18

0,15

0,15

0,12

0,08

0,08

 

 

13

0,16

0,14

0,12

0,11


 

 

14

0,15

0,14

0,10

0,10


 

15

0,12

0,12


 

 

16

0,10

0,10


 
Internal UN threads
Lead TPI

4

4.5

5

6

7

8

9

10

11

12

13

14

16

18

20

24

28

32

Tot. Inf. depth (mm)

3,74

3,32

2,99

2,46

2,13

1,88

1,66

1,49

1,36

1,25

1,14

1,06

0,93

0,84

0,76

0,64

0,56

0,49

Pass 1 (mm)

0,44

0,41

0,42

0,35

0,34

0,30

0,28

0,27

0,27

0,27

0,25

0,23

0,22

0,23

0,20

0,18

0,17

0,17

2

0,41

0,38

0,38

0,33

0,32

0,28

0,26

0,25

0,23

0,23

0,20

0,18

0,18

0,17

0,16

0,15

0,14

0,14

3

0,39

0,34

0,33

0,25

0,24

0,22

0,19

0,18

0,18

0,18

0,15

0,14

0,14

0,14

0,13

0,13

0,09

0,10

4

0,33

0,28

0,27

0,21

0,21

0,18

0,16

0,15

0,15

0,15

0,13

0,13

0,12

0,12

0,10

0,10

0,08

0,08

5

0,28

0,23

0,23

0,18

0,17

0,15

0,14

0,13

0,13

0,13

0,12

0,11

0,10

0,10

0,09

0,08

0,08

 

6

0,24

0,20

0,20

0,16

0,15

0,13

0,13

0,12

0,11

0,11

0,11

0,10

0,09

0,08

0,08


 
 

7

0,22

0,19

0,18

0,15

0,14

0,12

0,12

0,11

0,11

0,10

0,10

0,09

0,08


 

 

8

0,21

0,18

0,17

0,14

0,13

0,11

0,11

0,10

0,10

0,08

0,08

0,08

 

 

9

0,20

0,17

0,16

0,13

0,12

0,11

0,10

0,10

0,08


 

 

10

0,18

0,16

0,15

0,12

0,12

0,10

0,09

0,08

 

 

11

0,17

0,15

0,14

0,12

0,11

0,10

0,08

 

 

12

0,16

0,14

0,14

0,11

0,08

0,08

 

 

13

0,15

0,14

0,12

0,11


 

 

14

0,14

0,13

0,10

0,10


 

15

0,12

0,12


 

 

16

0,10

0,10


 
Recommendations are for steels with a hardness < 300 HB
25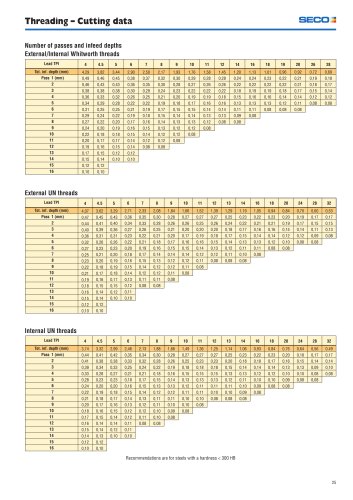 P. 22

Threading – Insert typesUse the guidelines below to choose suitable insert typeSingle-tooth inserts (Type S) A1 chipbreakerSingle-tooth inserts (Type...

P. 23

Threading - Anvils SECQl Originally fitted anvils The table below shows the originally fitted anvils. These anvils are suitable for most operations...

P. 24

Threading – AnvilsChoice of anvilUse the chart below to choose the correct anvil.The chart gives the last digit in the anvil code.Example: GX16-1Production...

P. 25

Threading - Cutting data SECO 3 Cutting data Use the tables beginning on page 250 to classify the work- piece material into a Seco material...

P. 26

Threading - Cutting data SECO: Number of passes and infeed depths A thread cannot be made in one cut because of the relatively brittle cutting...

P. 28

Threading – Cutting dataInfeed methodThe choice of infeed method is most important for long chipping materials to ensure good chip control.Modified...

P. 29

Threading - Troubleshooting SECQl Troubleshooting Rapid flankwear Plastic deformation Built-up edge Edge chipping • Reduce the...

P. 30

Code key - External turning toolholders SECO: As per ISO standard W N R 25 25 M 06 10 1. Insert clamping Clamp/inserts...

P. 31

Code key - Internal turning toolholders SECQl As per ISO standard 32 W N R 06 10 1. Toolholder type A= Steel with coolant...

P. 32

Code key - Inserts SECO: As per ISO standard W N M 06 04 08 CCGWD913WS-LDWZ w 09 T3 04 1. Shape f5° I...
Text version
All SECO TOOLS catalogues and technical brochures
Archived catalogues
SECO TOOLS - Catalog Jabro Tools

172 Pages