Booth:

Roadtec
Group: Astec Industries, Inc.

RP-195 Asphalt Paver -
2 Pages
RP-195 Asphalt Paver
The RP-195 is a powerful, rubber-track
paver made for highway work. Seats of
the dual operator stations can move out
beyond the sides of the machine to give the
operator an excellent view down the sides
of the machine. The four-way adjustable
operator seats feature a ride control tension
system for ultimate comfort. Noise levels
of Roadtec pavers are among the lowest
in the industry thanks to variable speed
fans. Roadtec pavers come equipped with
standard fume extraction systems for the
operator area. Like all Roadtec pavers, the
RP-190 features Roadtec's exclusive antisegregation
design of the feed tunnel, the
feed tunnel discharge, and the rear augers.
Engine
CAT® 7.2 L, 6 Cylinder, 225 HP (168 kW)
diesel @ 1,800 rpm, ACERT Tier III.
Construction
3/4" (19 mm) thick continuous-side-sheet
frame construction. 2" (51 mm) thick front
cross frame member. Pivoting push rollers.
Electrical System
Two 4D batteries. 12 Volt starting system
with master disconnect switch. 115 Amp
alternator. Electric-over-hydraulic solenoids
with manual override.
Cooling System
Variable-speed, hydraulically driven fan.
Propel System
Variable-displacement hydraulic pumps
driving two-speed hydraulic motors in
planetary final drives. Includes foot/minute
meter. Paving speed:0-164 fpm (50 m/
min). Travel speed 0-7.5mph (12 k/hr)
Brake System
Three brake systems including hydrodynamic,
disc caliper, and parking.
Friction Drive Undercarriage
18" (457 mm) wide steel reinforced
rubber track. 7 sets of rollers on
3 oscillating bogies. Friction drive
undercarriage. Automatic hydraulic track
tension system maintains uniform track
tension.
Operator Stations
Two Comfort DriveTM operator stations
with deluxe four-way adjustable, swivel,
ride control tension seats and water bottle
holder. Operator stations slide out past
edge of machine for increased visibility.
Fully adjustable mechanical dual stick
travel control. Armrest Comfort DriveTM
finger tip paver function control.
One operator umbrella.
Fume Extraction System
Clearview FXSTM fume extraction system
Two blowers. Fold-down 10" (305 cm)
exhaust pipe.
Material Handling System
11.5 Ton (10.4 MT) / 210 Cu. Ft. (6 cu. m.)
hopper with hydraulically movable wings.
Electric flow gates.
Independently driven variable-speed
feeder conveyors with 1/2" (12.7 mm)
thick 550 BHN liners.
Sonic feeder control system.
16" (406 mm) dia. cast ¾" (19mm) thick
ni-hard augers.
Hydraulically raise, lower and tilt auger
assembly. Conveyor bypass permits
operation of augers independent of feeders.
18" (457 mm) Hydraulic Tunnel Extensions.
Service Capacities
Fuel ...............................120 gal (454 L)
Cooling system ................. 5 gal (19 L)
Hydraulic system tank...... 71 gal (269 L)
Other Features
Remote, central-point tractor lubrication.
Retractable wash-down system with 30''
(9.1 m) hose length.
Amber warning beacon and back-up alarm.
Please see reverse for options.
All specifications are subject to change without notice
RP-195 Asphalt Paver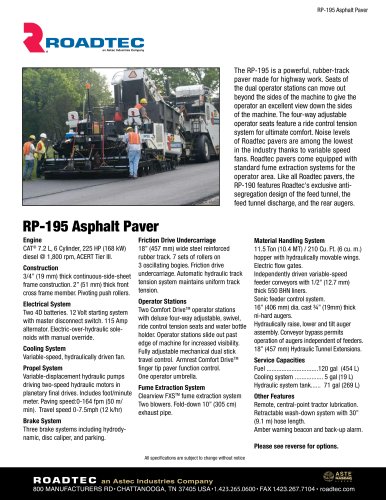 P. 2

RP-195 Asphalt PaverOPTIONSAdditional LightingRoad Light Package – Six 12V lights(2 hopper, 2 tunnel, 2 screed).Premium Light Package – Five...
Text version
All Roadtec catalogues and technical brochures
Archived catalogues